After launching in 2016, Instagram stories quickly ranked the top engagement driver for Instagram content creators, with over 500 million users using Instagram stories daily. Impressing, right? There are so many ways you can create fun, inspiring, and engaging Insta stories to interact with your audience and build a lasting relationship – and we'll discuss them today. 
With Instagram rolling out new story features constantly, now is the time to make stories a part of your video marketing strategy. Stories are effective as they create a sense of urgency among users with a lifespan of 24 hours before disappearing forever. Additionally, they are pretty short, about 15 seconds, making it easier for users to consume more. So if you're missing out on stories, and don't know where to start, we're here to help.
Let's dive into 7 Instagram hacks you can use to surprise your audience, and increase engagement with your personal brand. I have invited social media marketing and video marketing expert from Invideo, Adam, to reveal us his best-kept secrets about using Instagram Stories content in social media marketing. Here's a summary of our chat for you! 
Poll Your Audience
Stories are all about creating engagement with your audience, and also help in collecting useful insight. Polls are one of the many ways you can directly ask users to vote for their favorite response. It's very simple as users get to choose from the two-three options available, which can provide great insight or feedback to your brand.
If you're about to launch a new product, and having trouble deciding which color you should keep, ask via poll. If you are a food brand, you can ask users which of the two dishes they like the most. There are endless ways to interact with your audience and get valuable information, which you can further use to improve your product or services. quality.
Your audience, in a way, feels connected to you when you ask for their opinions. It makes them feel like they are part of the group. This way, you can build a good relationship with your audience. To create a poll story:
Create your story by adding a photo or video, then go to the sticker section and choose a poll sticker.
Enter your questions and customize them a little bit to look good.
Post it to get the responses in the next 24 hours.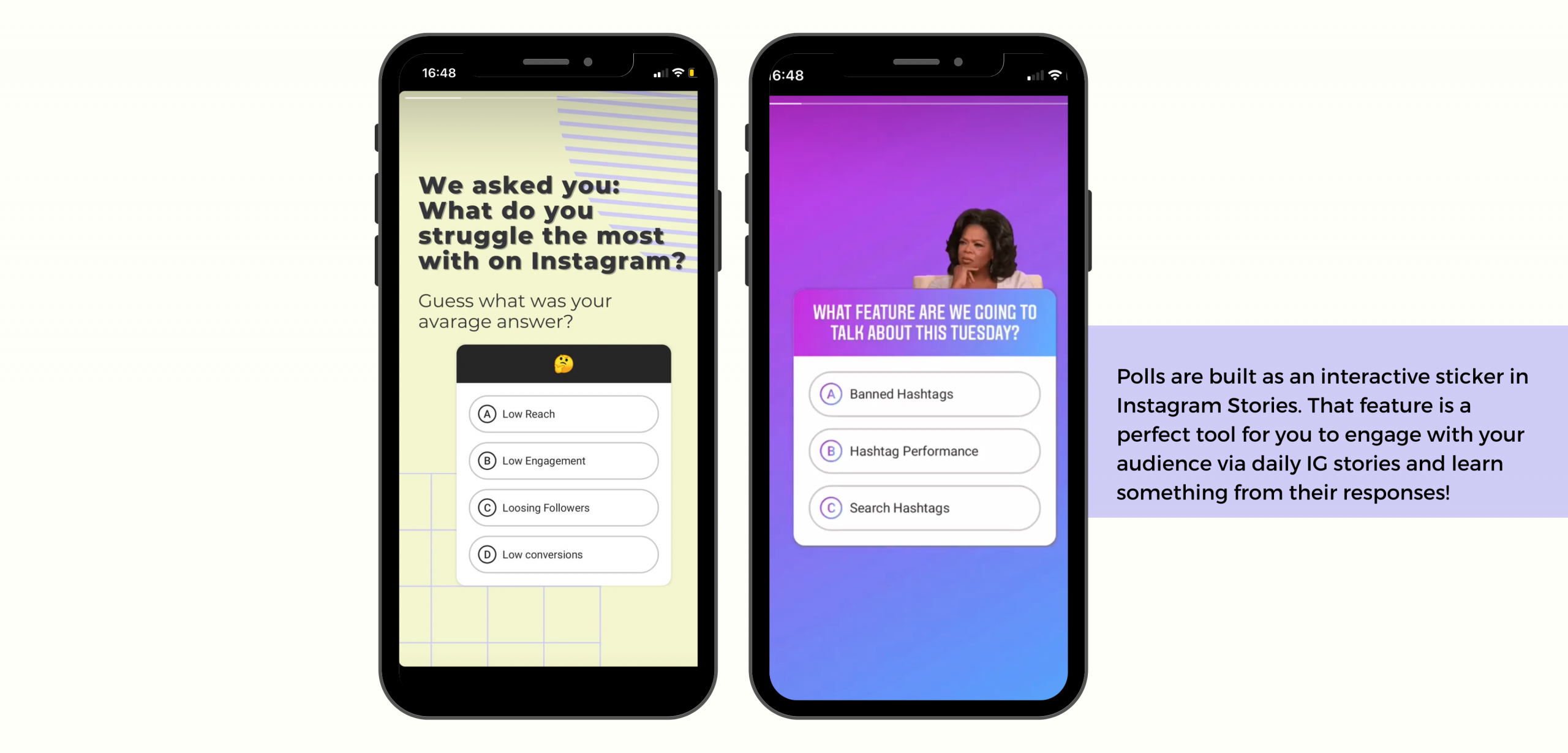 Behind The Scenes
Behind-the-scenes stories are a way for your audience to know you better, creating deeper connection and trust. So whether you're working from home or have a great-built office, give them a tour of your daily routine and work life. Give your audience a feel of how you start your day, plan your holiday, or share a brief coffee moment before getting back to work.
Behind the scene shows your authenticity, personality, lifestyle, and hard work. Maybe this might inspire your audience to do more in life. So putting in a little effort in creating behind-the-scenes stories is worth it as it can give you a loyal fan base. To create a behind-the-scenes video, shoot from your camera and use the best and most intuitive Instagram video maker to create a fun short video.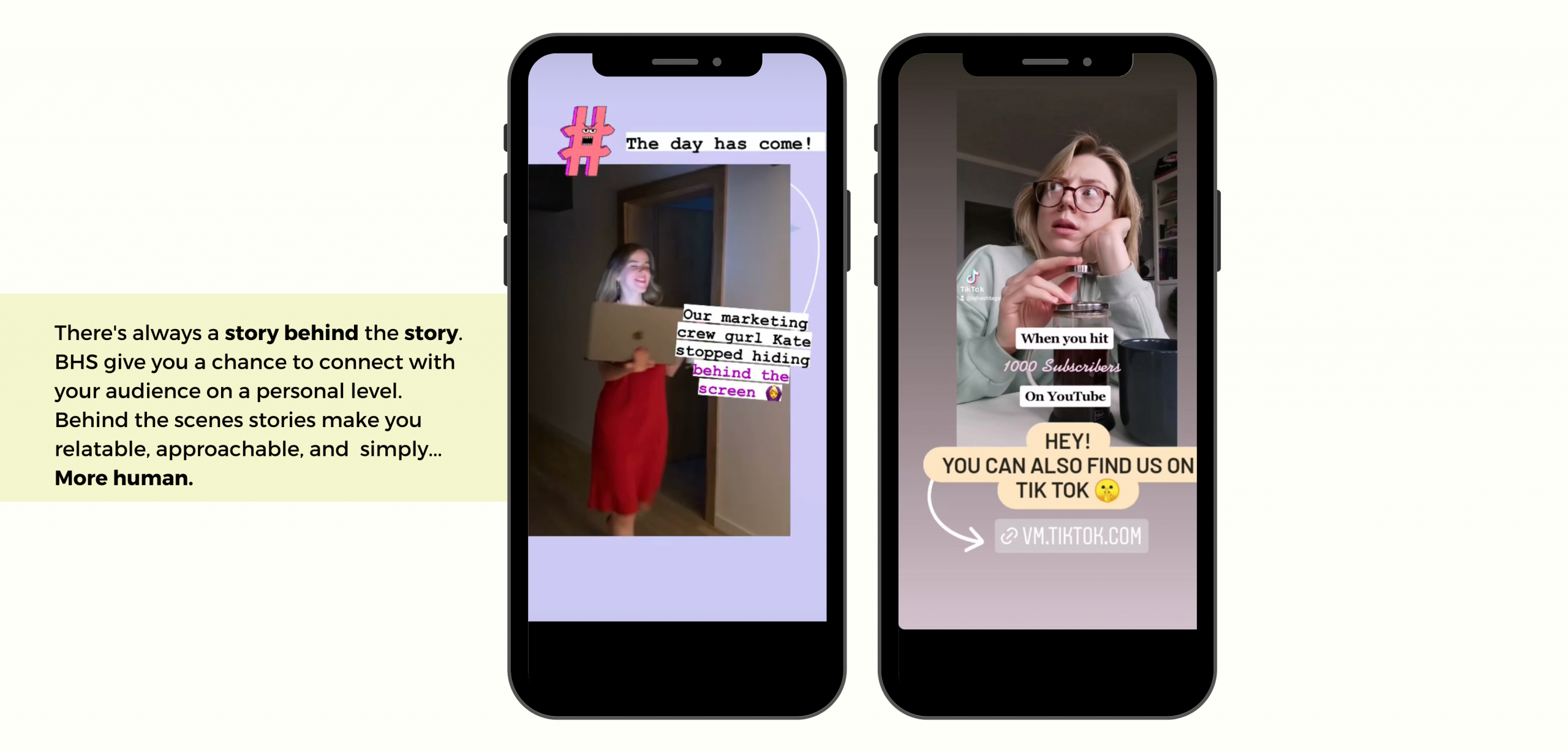 Use All Instagram Features
You can use many features to craft fun and entertaining Instagram stories. Instagram keeps rolling out new features every so often for stories. You can add stickers, location, GIFs, countdown, timer, and hashtags as much as you like to keep your story buzzing.
There is also a way to write text in many different styles. To write text in style, open your camera and select the type button from the bottom of your screen. Then type your message and style it to look attractive. 
Many Instagram video creators create eraser stories by revealing a tiny section of their story to generate curiosity, making it more click-worthy. Put some time and effort into deciding which feature to use and how you can make it look more attractive.
Add Links to Your Stories
The link in the Instagram story is now for everyone. You can include links in your story no matter if you've 10K+ followers on your business profile. You don't need to meet the criteria, don't worry. 
Add a click-on button and add a link to your product page, website, or blog post. Links are a great way to drive traffic to your campaign and get a chance to convert them, and also help with your Instagram growth.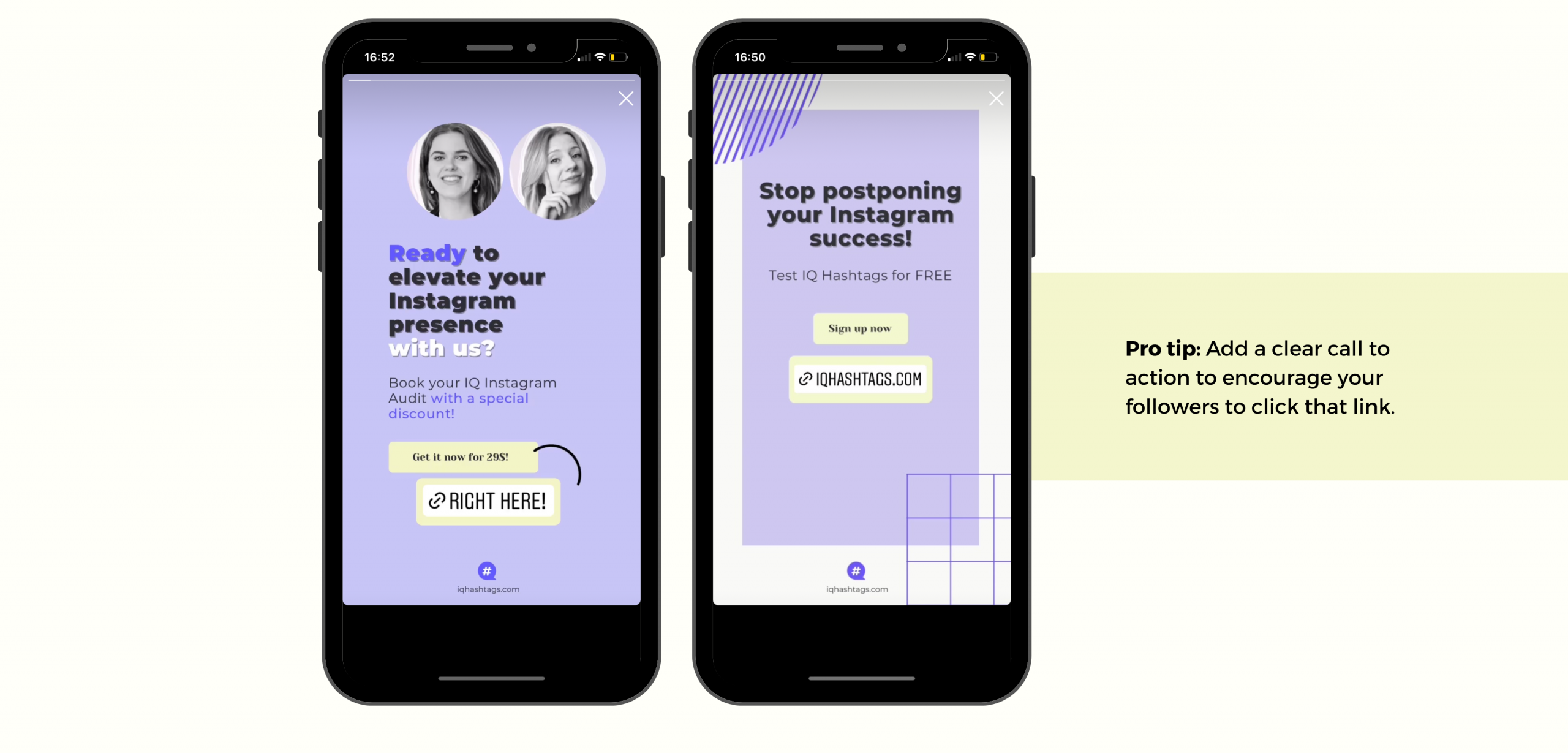 Add Brand Color to Stories
If your Instagram profile uses a theme to make your page appear attractive and different, you can also use your theme to showcase brand identity in your stories. Your audience will quickly recognize your brand without seeing your name on the screen.
It builds authority for your brand, and newer audiences get to understand your brand. This is a great way to create brand awareness.
Showcase what your brand does and how it does it in a short, crisp, and fun Insta story. There are many different features you can use to customize your story using color, font, stickers, and brush options. To create a story that resonates with your brand identity, which will more likely convert your audience in the long run. 
Q&A Instagram Stories
Instagram Q&A stories are a great way for people to ask relevant queries about your brand, which you can answer in another short Instagram story or by going live. You can also ask for their opinions, such as asking which movies they like, what's their favorite holiday destination. 
This creates engagement which leads to Instagram showing your feed post to more users and driving more traffic. Most of the time, people have queries about your product and how your product can help them. You can collect all frequently asked questions and then answer them in the next upcoming post or by creating another short story.
To create Instagram Q&A stories, follow these steps: first, create your Instagram story by uploading videos or photos. Then, select the sticker icon on your screen as the photo or video is ready to go. Then, choose the Q&A sticker, click Customize the text window, and that's it. You are good to go.
Host a Contest or Giveaway
This is a great way to generate followers and trust in your brand among the newer audience. Post a giveaway or contest by defining rules like following your account, sharing a picture with your brand, or their positive experience using your product. This way, newer audiences will trust your brand and are more likely to buy from you.
More participants are likely to participate and engage with your story seeing the urgency of stories. Make sure to keep a proper record of all the participants to decide a winner.
Wrapping Up!
Now it's time to get creative with your stories. The above tips will help you get ideas to create stunning, eye-catching stories that reflect your brand's image as more people are interested in the brand after seeing them in stories. Create a content calendar and plan stories for the entire week or better for a month in advance. 
Keep providing high-quality informative, creative, versatile content and optimize your strategy to form a deeper bond with your target audience. What are you waiting for? Don't miss out on the opportunity to build your brand identity and grow your business. Get on board and use all the features Instagram offers to tell your story.