What's new on Instagram? Oh yes, as you can easily guess – there is something going on with the video format, as our favorite platform is trying really hard to keep up with Tiktok and Youtube! Do you remember Adam Mosseri's (for the forgetful ones – yup, he's the head of Instagram) statement from June – the one about Instagram being no longer a photo-sharing app? The one telling us that the key areas include video content, shopping features, and messaging improvements now?
It all looks like video format REALLY is the future of social media content marketing, and Adam was completely serious: the Instagram team is constantly working on it. Earlier this year, even Mark Zuckerberg revealed that video content accounts for almost half of the time spent on Facebook. That's quite a lot. No wonder Instagram is powerfully concentrating more on its video format potential.
This week, new changes kept on coming. IGTV and feed videos are moving to one format: INSTAGRAM VIDEO. Did you catch it? In case you missed it, no worries. Today, we're outlining our top takeaways and what you actually need to know about the video update to succeed on Instagram. 
Let's go! Today we'll break this update down, and discuss in detail:
What is the big video update all about?
How exactly is Instagram merging IGTV and feed videos into a single format?
What does the video update mean for your content strategy?
Will the new video tab make our content creators' lives significantly easier?
Will it improve our video content discoverability? 

Goodbye IGTV

– why did Instagram decide to shut down this feature and introduce the new one?
* Time to say goodbye playing softly in the background *
Another day, another farewell. Oh, come on, not really!
Anyway, we have to say goodbye to IGTV, as it's going away – basically the first extended feature for sharing high-quality long-form videos and the first official Instagram's answer to Youtube's format. It's been functioning as a standalone feature as well, accessible not only from Instagram. The ephemeral format is shutting down due to low usage after launching in June 2020. 
It will be completely gone soon. 
Since no one cared about IGTV so much, Instagram is getting rid of it. Instagram's decision to ax IGTV is sort of an admission that the feature didn't work as well as expected, but also a clear sign that the platform needs to be simplified. We actually think that's a strategic move since creators don't really use IGTV that much anymore – and reels got the spotlight. 
They say that we don't know what we've got 'til it's gone.
Well, we don't really think it will be like this with IGTV – mainly because we're getting something better in return!
And, the thing is, IGTV won't be REALLY dead. 
It will, and it won't at the same time.
Let us explain!
Instagram has decided to merge IGTV and infeed videos into one video format. You can still upload videos that are longer than 60 seconds (actually, they can be up to 60 minutes!) – it just won't be on IGTV anymore. Just no more IGTV tab, that's all.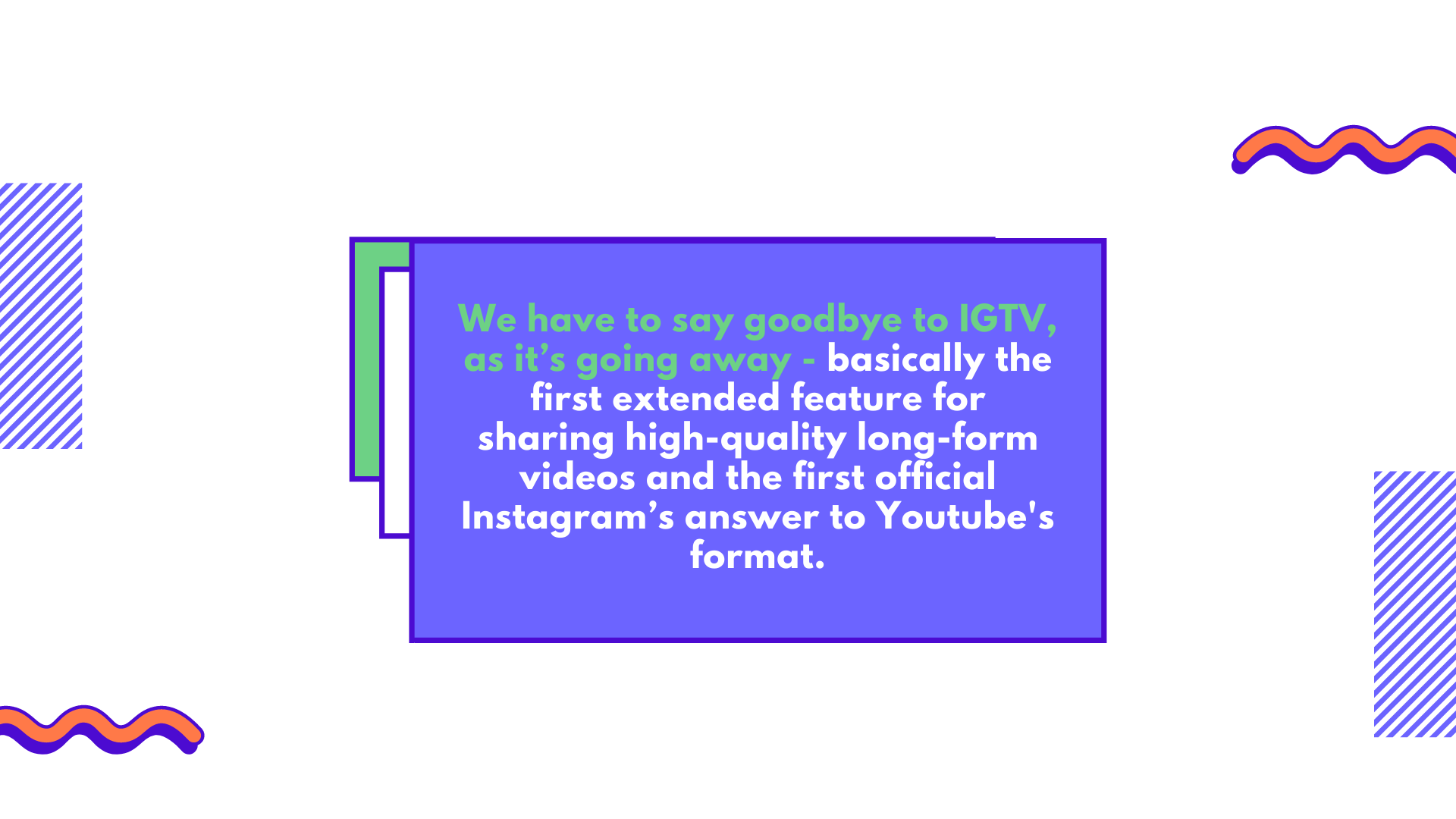 Sounds like they want to make our content creators' lives easier and encourage us to use video format? We really think so! This update is meant to help users find new video posts that they can enjoy more easily. We guess we can admit it now: IGTV wasn't the most intuitive format – it wasn't really searchable, at least in our opinion. No wonder Instagram decided to clean up its features and enhance the video content scrolling experience! 
The new Instagram video tab

– what can we expect from it? What does the update mean for your profile? 
So Instagram's introduced Instagram Videos – as we already mentioned, it will consist of both infeed videos and IGTV format alike. "We hope Instagram videos will help more people feel comfortable joining the video content sharing and discovering" – they say. We hope so as well!
It looks like it's a move to simplify the platform's video formats. But hey, don't worry: there will still be Reels, Live and Instagram stories. 
What else do we already know about the big video update? Here we come with the low-down on the first good news about the video update (the Instagram team's announced that there's even more, to come soon):
IGTV & regular feed videos will be blended into one format: Instagram video
video previews are being increased up to 60 seconds!
Instagram stories will have a vertical like screen – similar to Tiktok
Instagram videos will be easily accessible in their own tab on our profiles
Instagram will introduce some new in-app editing options, like extra filters, trimming, and adding text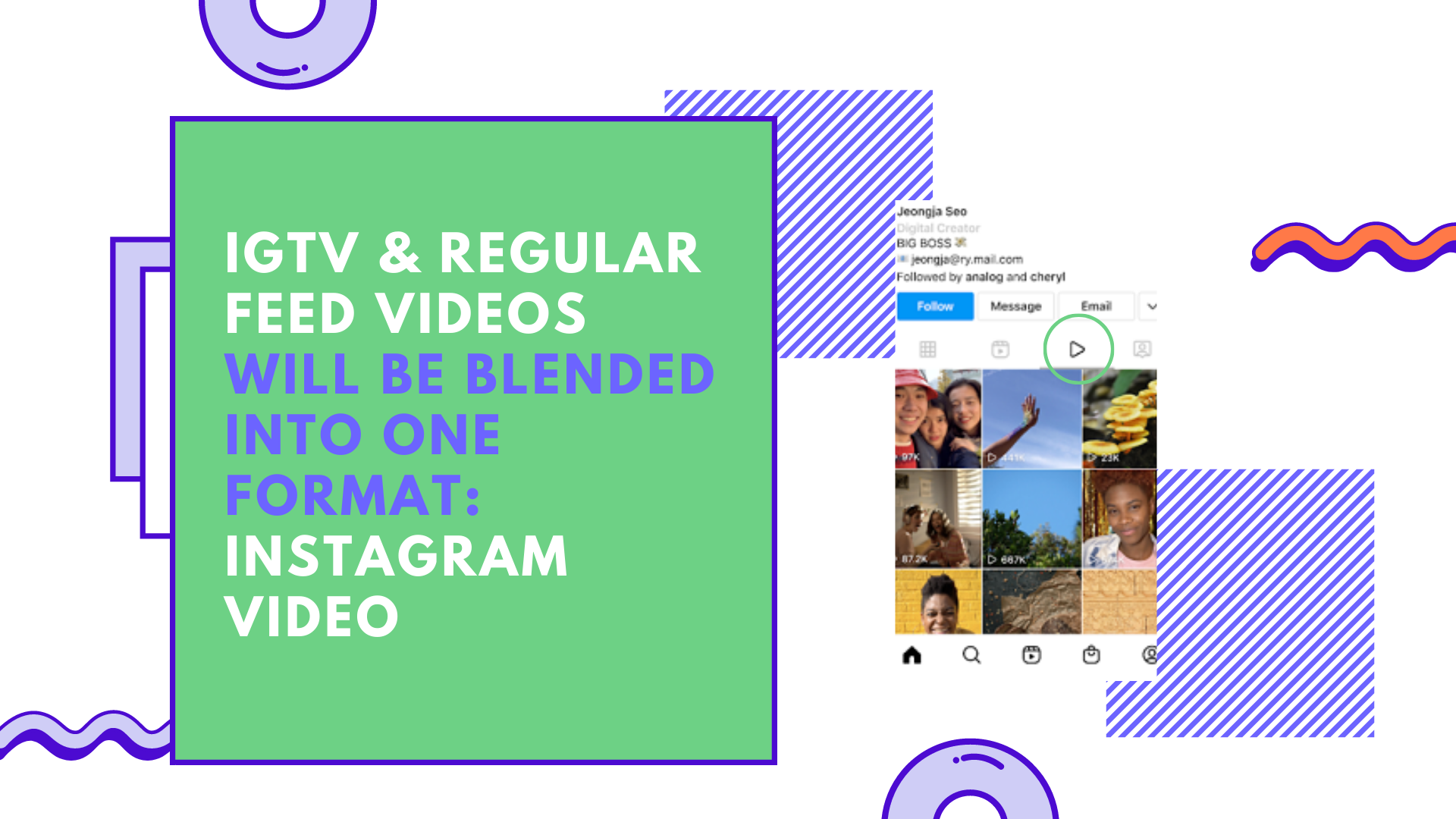 What about extra options for business owners?

Should we get really excited about the update? 
We're excited, to be honest!
The new Instagram video tab offers a few features that can turn out to be total game-changers for creators and business owners – so it's a loud yes from us!
What do we all need? More exposure and better visibility to reach and attract people from our target audiences, right? The new video tab can become immensely helpful. What are the main benefits of it? Let's look at them once again:
creators will have the option to tag people and locations in the video content
we can edit, trim and add filters to our video content in separate video tab, which is really comfy. Double yay for in-app editing! 
new format can have up to 60 second long previews
it will be perfect for longer-form storytelling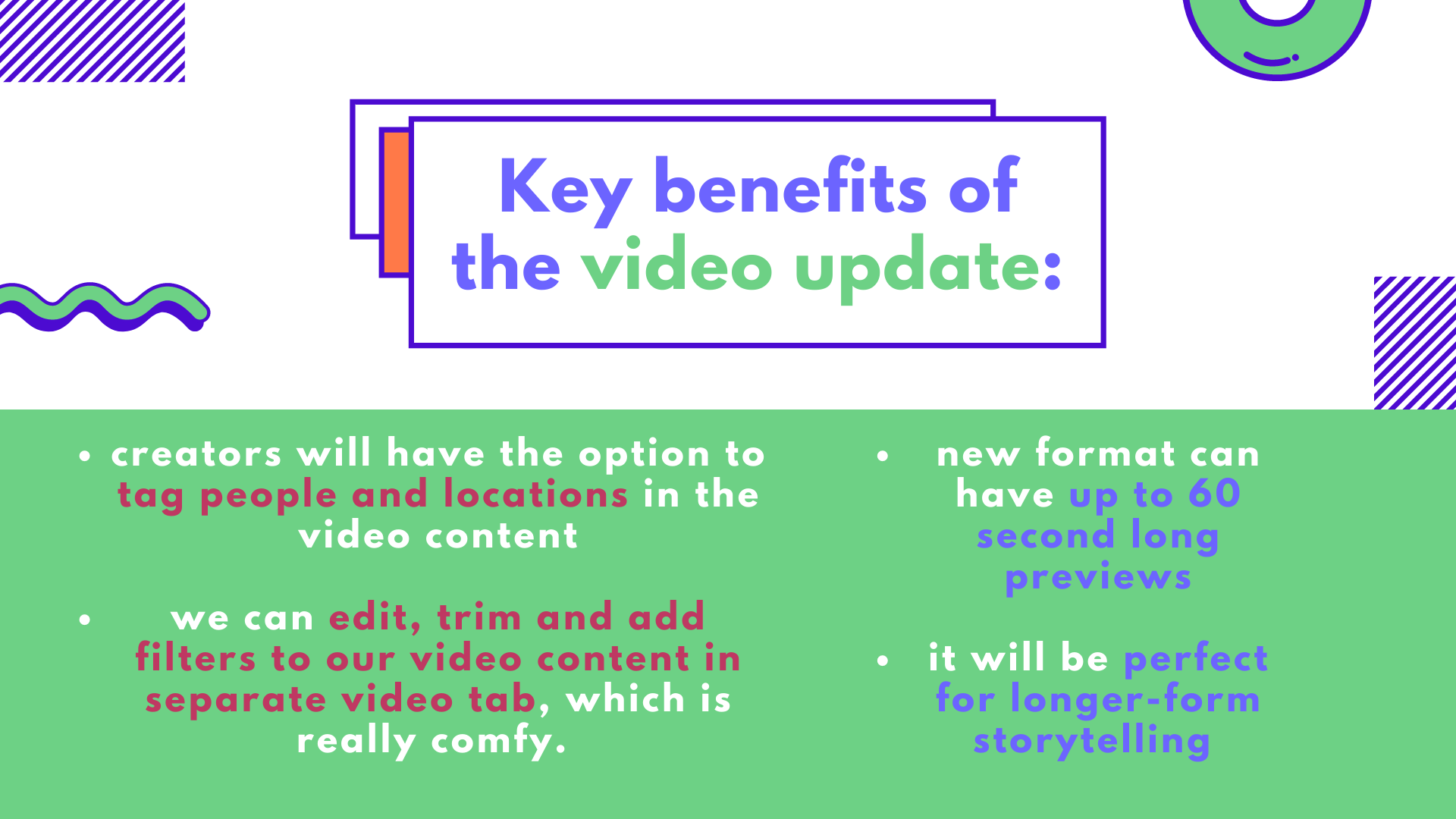 To wrap up –

video update in a nutshell! 
IG video is replacing both IGTV and feed videos! A new video tab is coming soon – we have to say goodbye to IGTV, sort of. Instagram announced combining two formats: IGTV and feed videos into one simple format: Instagram video. They will also introduce a new, separate tab for this format: Video tab, which will make discovering video content much more intuitive and provide us with new playback functionality. We will also be able to tap anywhere on the video to enter the full-screen mode – that sounds really promising to us!
Instagram video will be the universal format for longer-form storytelling, as you can upload videos that are up to 60minutes long. 
That's not the only good news we have – video preview will be up to 60 seconds, and we will get to tag people and locations in our video posts. 
What about reels? – you may want to ask. Nothing changes here: they will still have their OWN separate tab.

Do you already have the new video tab on your account? Are you excited or not really? 
If you're new to this "video content thing" and you're thinking "where do I even begin" – hey, we're here to help! We will elaborate on how to make the most of video content in the upcoming articles – leave your questions in the comments!