You see the danger with sudden reach drops is, you don't always see it coming. It can creep up on you like an unexpected zombie in one of those haunted house experiences, and before you know it, you're terrified of checking your stats, analyzing all the last month's insights, or even creating new content. To be honest, we don't think enough people talk about this, and fair enough, no one wants to admit they're having a hard time with Instagram, and they're truly worried about the numbers behind their profile. The reality is that it happens to the best creators as well – sometimes your hashtag strategy fails or simply needs some updates, and well-thought improvements. 
In many of our sincere conversations with you, we hear that you often get a creative Instagram rut, and you have no clue how to get out of it because you keep on trying, you spend long hours polishing your content, and no matter what, your reach remains low – absolutely no matter how inspirational and educational your posts are. 
We know it: it's a wild journey of self-doubting, constant fear of not being good or inspiring enough for a content creator. That's where the imposter syndrome craps in. 
The good news is that most probably,

it's not you!
It's your hashtag strategy that needs some extra work, and you need to stop it from standing in your way. What you focus on indeed expands – so we need to focus on making sure that your hashtag strategy is working FOR YOU, not against you, okay?
But how? Because when you're there, and your reach is constantly dropping down, it feels impossible, right? Yup, we know those feelings, and you're not alone. But what's cliche, but accurate as well: nothing changes if nothing changes.
Some hashtag strategy changes may be highly needed. Let's check it! 
Today we'll discuss in detail:
Why your hashtag strategy doesn't work, and how to fix it?
Why do you feel like the hashtags you're using are dead?
Why don't your hashtags bring any new engagement?
Are you following the most crucial hashtags do's and don'ts?
How to effectively attract new followers?
Is it still possible to grow a big tribe with relevant hashtags?
Are relevant hashtags as important as social media gurus are telling you?
What hashtag strategy mistakes may be ruining your growth?
How to avoid reach drops?
What are the critical hashtag strategy rules you should never forget about?
Where should you place your hashtags? In the caption or in the comments area?
Can you repeat the same set of hashtags and still see good results?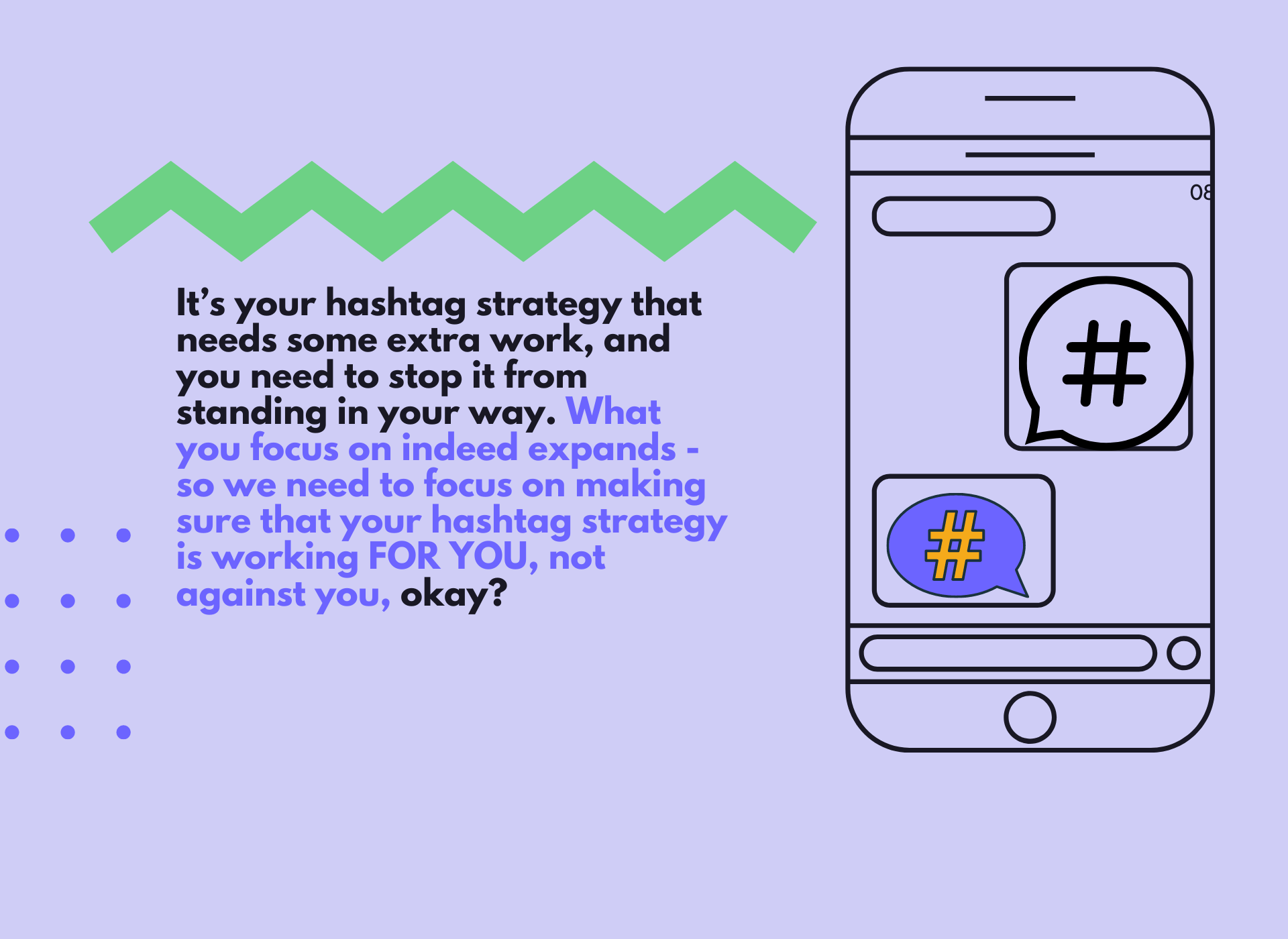 Are you ready to dive in deeper? Let's go! If you'd like to tap into the consciously developed hashtag strategy's potential to reach a bigger audience, you're on the right track. Upping your hashtag game is the ultimate way to go. It's essential to be more strategic, creative, and intentional about your hashtag research and strategy implementation.
How? Let's begin with discussing the most common hashtag strategy that may seriously damage your efforts and hinder your growth. Learning from the mistakes of other content creators is a path with so many advantages. So, what are the most frequently repeated mistakes that you need to avoid?

1. You don't care about

hashtags relevancy
That's actually a really common mistake!
Your hashtags should primarily be the phrases that describe the content you post or the audiences you want to reach. A relevant hashtag is closely tied to your niche! It can't be too generic, like #pretty, #today – these hashtags won't attract the people you care about, the ones with high potential to become engaged members of your community.
Relevant hashtags are so beneficial because they make your posts discoverable – and people can easily find content related to a particular topic they're interested in, and you can quickly gain new followers from your target audience. It's like a win-win: they find what they're looking for, and you're attracting potential high-quality followers.
How to identify the most relevant hashtags? You can do it manually by researching your competitors' picks and observing tendencies, or you can use both free and paid tools to find relevant hashtags and explore the best fits. The latter is a huge timesaver and can save you from many troubles as well – so we wouldn't hesitate and trust one of the most extended hashtag research tools. Can we recommend anything trustworthy? We use IQ Hashtags – in our opinion, it's the most intuitive and comprehensive one out there. Its Hashtag Search feature gives you the best options, driving actual results, as it provides an extensive list of hashtags that relate to a primary keyword (it can be your niche or one of the key areas of your profile).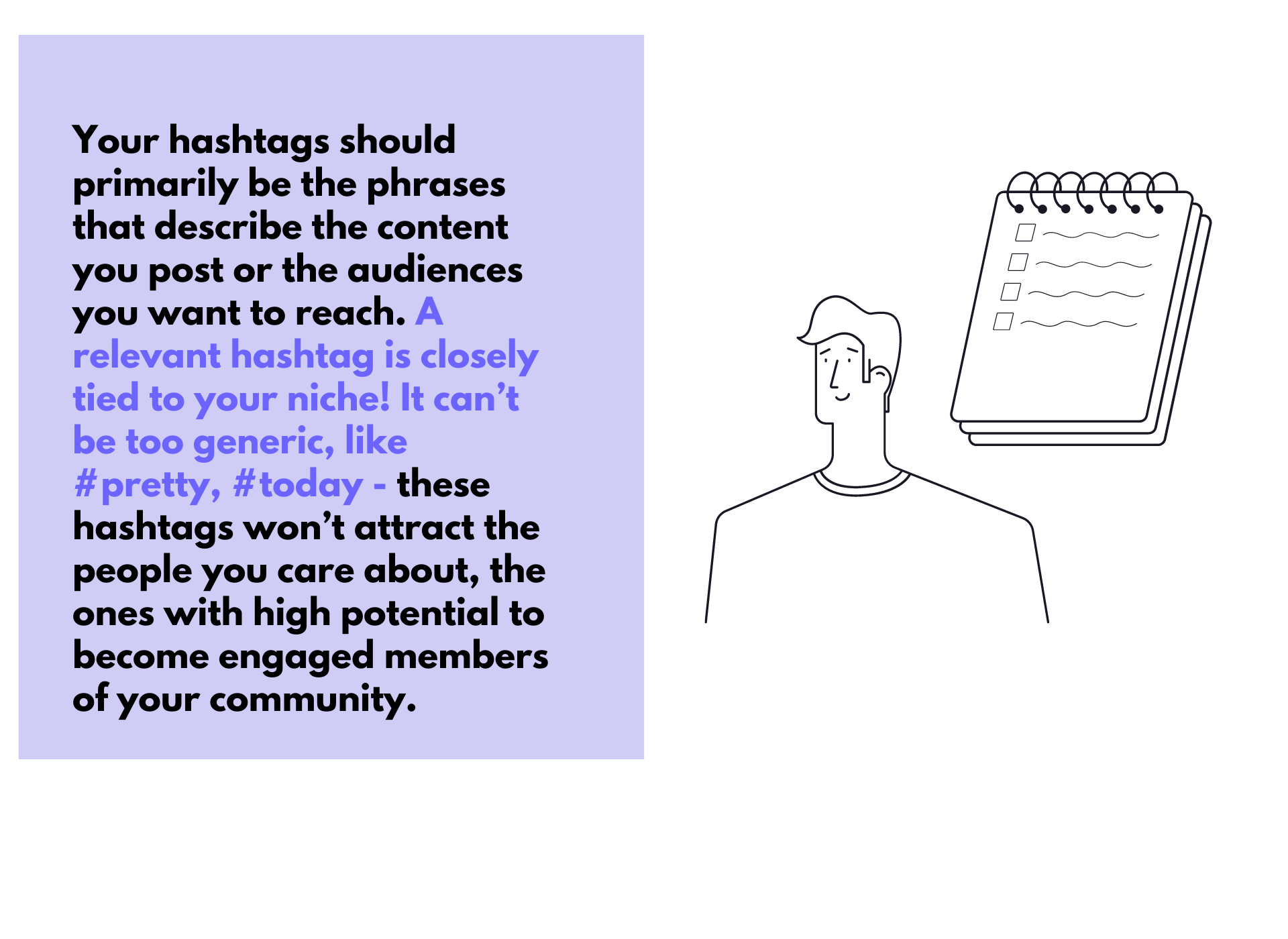 2. You overuse

popular or… too specific hashtags
Hashtags with low search volume are often too specific and won't bring you any satisfying results, as almost no one is looking for these hashtags. The ugly truth: content associated with these types of hashtags are unlikely to be seen simply because there are too few people interested in it!
At the other end of the spectrum, we have many overly popular hashtags. Will they become a better choice? Not at all! They have nothing to do with boosting your reach and attracting new followers from your target audience as well.
Another word of caution: high competition hashtags mean there are too many other content creators competing for ranking high for those hashtags. They're just too competitive, and your posts will disappear in a blink of an eye at the speed of light, as plenty of new posts described with those hashtags are being uploaded every second of the day.
There's also a high risk that they won't attract anyone from your target audience, as they're just too generic and overloaded with spammy content.
Stick to medium-size, niched, and targeted hashtags – they're the most strategic choices!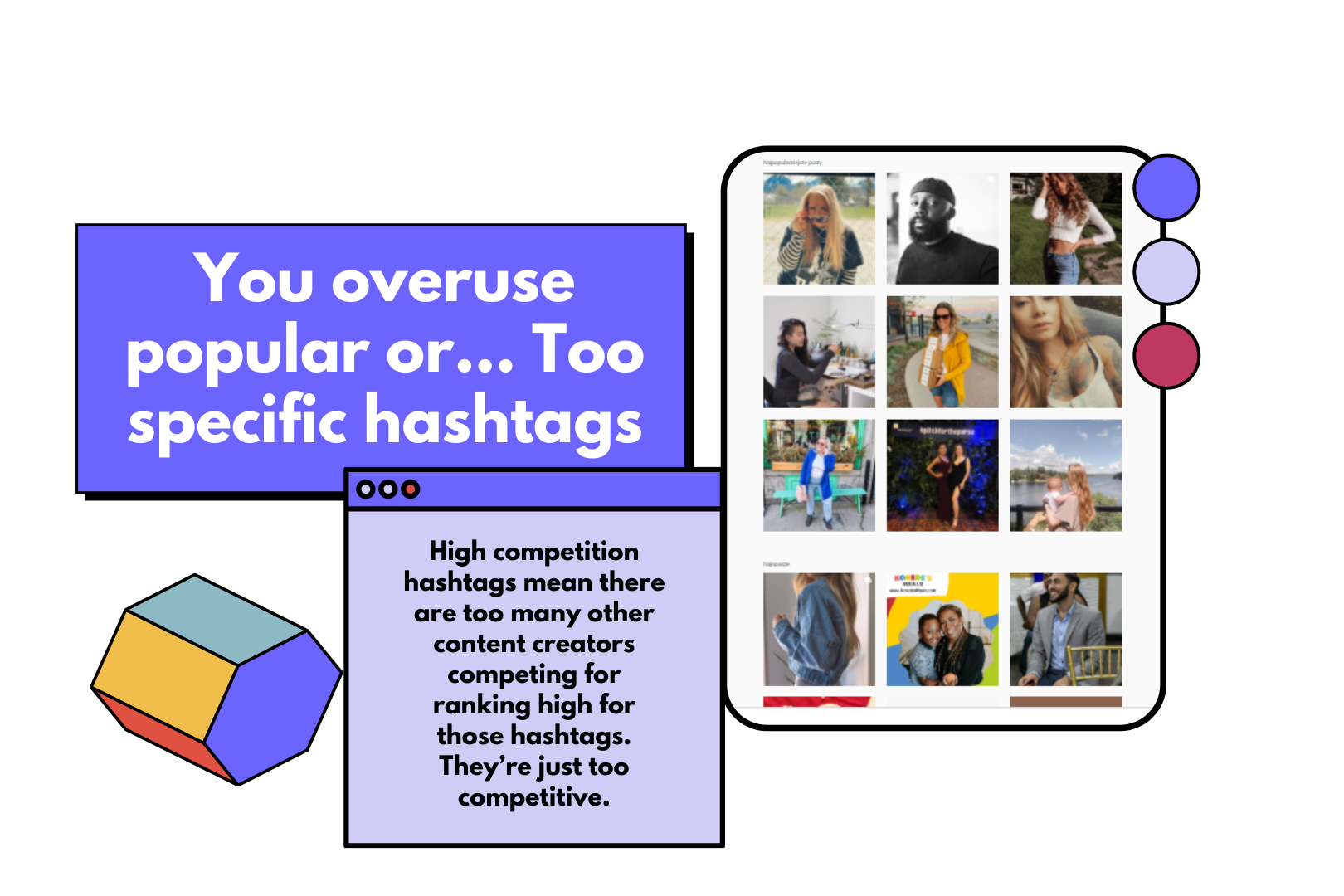 3. You don't have time for

in-depth research
We've already talked about hashtags relevancy and how to find the best fits, but hashtag research is so crucial, it deserves another point! Far too many content creators shoot themselves in the foot by neglecting to choose and use hashtags strategically.
Hashtag research is worth EVERY MINUTE OF IT. Don't be in such a hurry, you don't have time for researching the most beneficial choices and analyzing the performance of your current hashtags.
Analyze, analyze, analyze and draw conclusions—test different hashtag sets. Save many collections of the most relevant hashtags. Observe your competitors. Good research can tell you vital information. Actually, research should be one of the very first steps in the hashtag strategy developing process, so getting it wrong or neglecting it and not doing it at all sets you up for a massive disappointment, and we don't want it, right?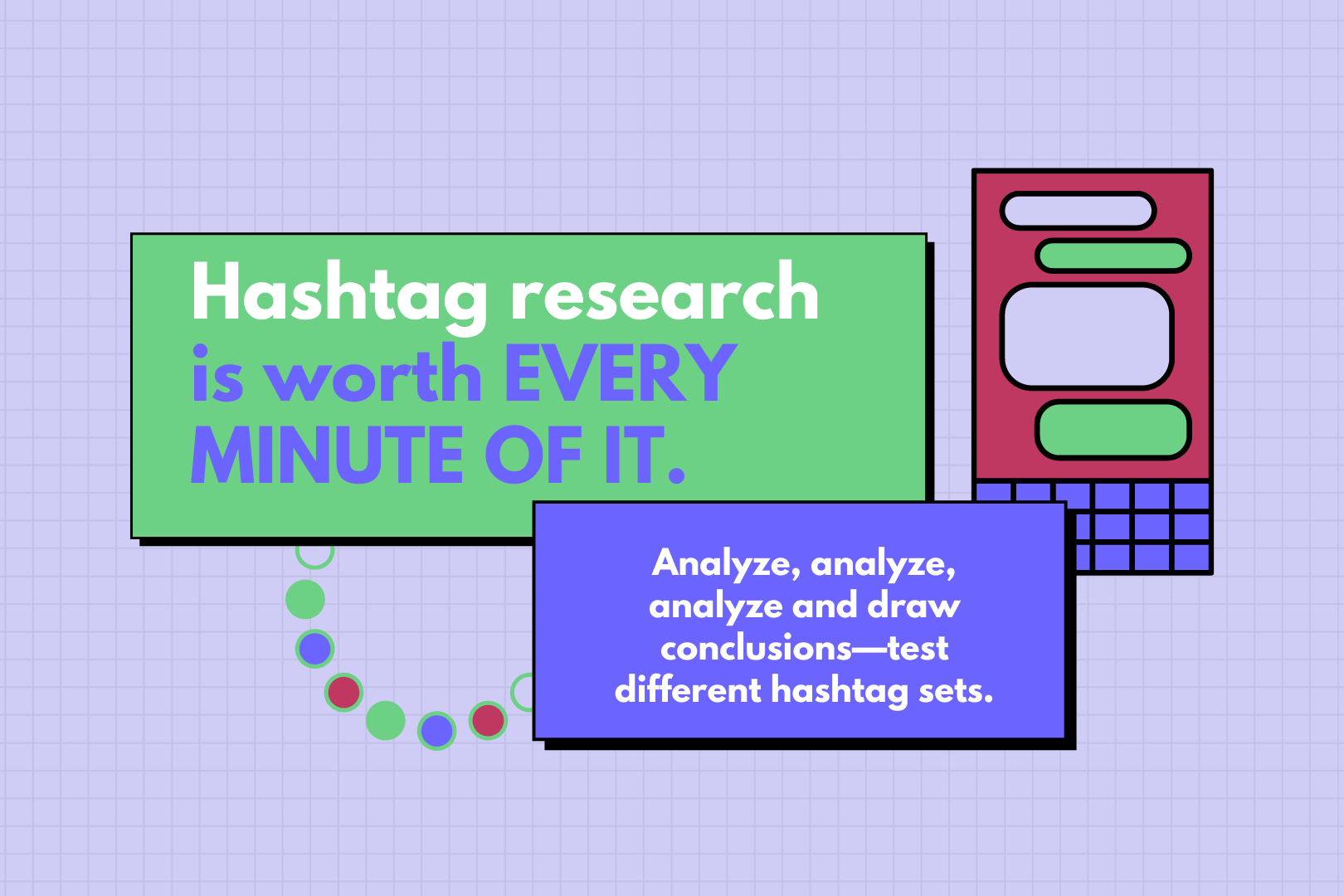 4. You repeat

the same set of hashtags

all over again
While you may think repeating the same hashtags all over again will drive more targeted followers to your profile, it could actually do the opposite.
Why? You're reaching the same group of people, over and over again! Every new hashtag gives you a unique chance to attract a totally new audience – so don't you waste it! While it might be tempting to repeat this one golden set, avoid using it too often. Instead, mix old hashtags with some new ones, research trending ones, and save at least 4-10 different sets of hashtags for different types of posts.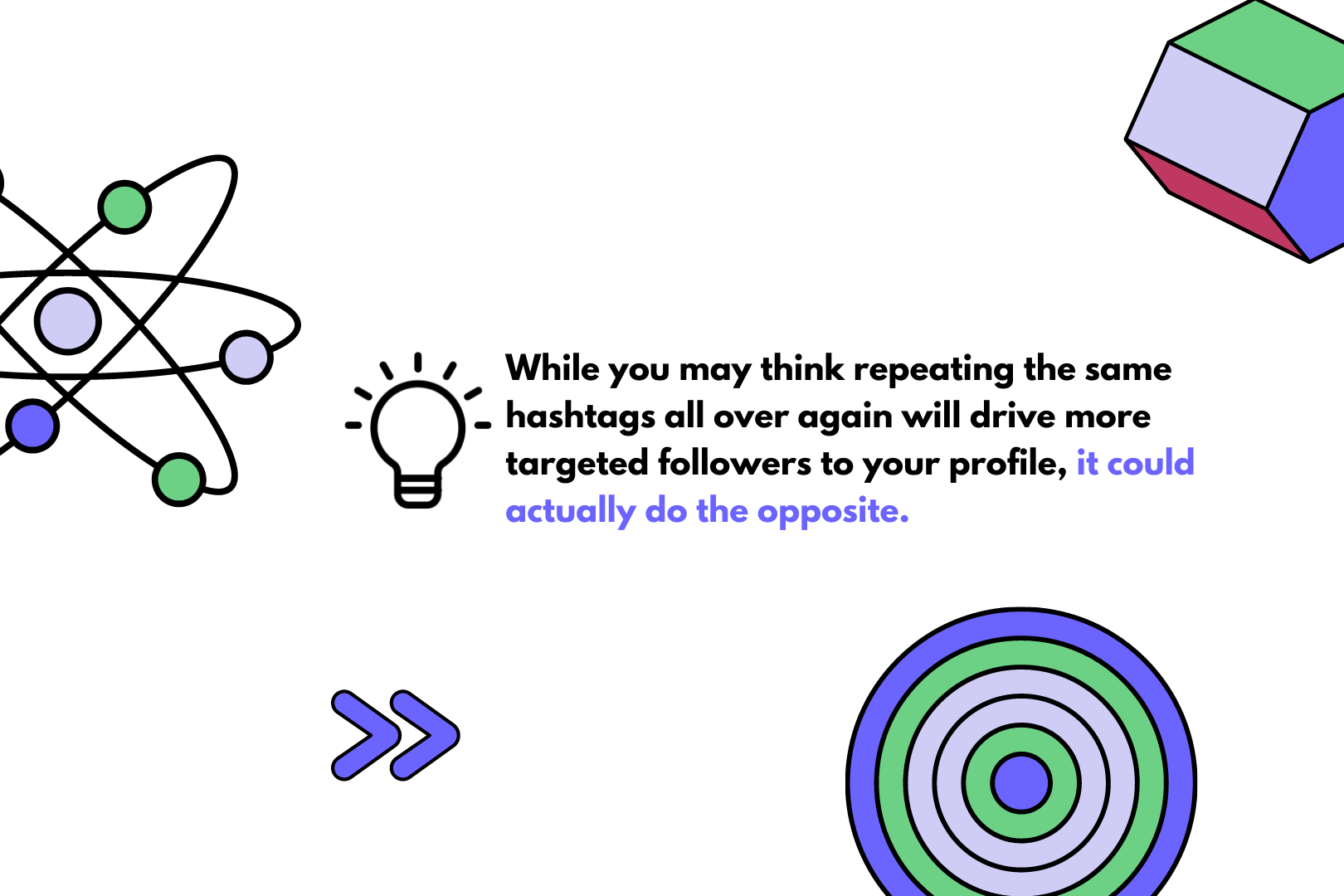 5. You put your hashtags

in the comments
In the past months, Instagram has become much better at letting people in on how the algorithms and Instagram search engine work, and Adam Mosseri promises he won't slow down. Most recently, he has ended the as old as the hills debate about "where should the hashtags go?" – announcing that putting hashtags in the caption gives you extra opportunities for ranking in Instagram search engine results and is much better for the platform's content optimization.
"For a post to be found in Search, your keywords and hashtags should be in the caption, NOT the comments" – that's what he said.

We know what you may want to say: ugh, Instagram and this whole hashtag strategy thing is giving me a headache! We know, we know, analyzing your hashtag strategy and sticking to the updates rules can be overwhelming at first. But if you've identified your main mistakes, have a polished strategy in place, and take courageous action, you'll be rewarded with an engagement boost and new targeted followers!
Nothing magical comes easy. It's hard work polishing your Instagram strategy and keeping up with the news – but you're capable of staying on track regardless!