Looking for a simple and straightforward process for choosing the right hashtags for your Instagram content strategy? Look no more – today I will tell you all about distinguishing between powerful hashtags and those which unfortunately are relatively powerless. What are niche, targeted hashtags, and what makes them different from the general ones? I will teach you their advantages, how to research and use them. 
Over the past few years, the Instagram landscape has evolved significantly. As a result, many tactics have changed – that's why we all need to update our hashtag strategy.
You can no longer choose totally random hashtags, and hope that the Instagram search engine will rank your posts really high. It is now equally important to research the most relevant hashtags, and provide the most meaningful content, full of personality, and natural charm.
Instagram as a social media platform has become much smarter; algorithms have changed, and the competition is bigger than ever.
So how can you make a dent in the 'Gram universe? How do you stand out from all these talented creators and all that crowd? More importantly, despite the quite big competition, how do you manage to attract new followers from your target audience and increase your reach?
The answer is… Niche, well-targeted hashtags. 
In this post, I'm going to discuss the basics of niche hashtags, their various benefits, and how you can find them. Ready? Let's start from scratch.
There are two ways to pick your hashtags:
Choose some general hashtags that you think make sense, and hope for the best.

Use a research process to choose relevant hashtags (the ones your target audience is using and those with beneficial search volume).
In today's guide, I'll explain the process I use to choose the most effective hashtags. If you want to stand out, become discoverable, succeed, and survive in such a cut-throat competition, you definitely have to leverage your hashtag game.
Targeted hashtags have far less competition, and because of that they are easier to rank for. Most importantly, they're really effective when it comes to attracting your ideal followers. You will just have to be a bit careful when doing your hashtag research!
But hey, never worry, tips I'm going to share with you below should help you with that.


Your Instagram profile probably already has lots of helpful posts, interesting captions, and eye-pleasing photos. But, you're not getting the reach you deserve.
That's where hashtags come in handy. As you already know, hashtags are words and phrases that describe your posts and provide more context to help other users find your content. So what's the quick fix to get more views? Targeted hashtags, double yes. 
Simply put, niche, well-targeted hashtags are more targeted search phrases. They're more specific and less common than overly popular hashtags. And, of course, they focus more on your niche.
If your profile is relatively new, and you don't have millions of engaged followers by now, it can take months or even years of hard work and excellent content strategy to rank for overly popular, highly competitive hashtags like #fashion or #sport.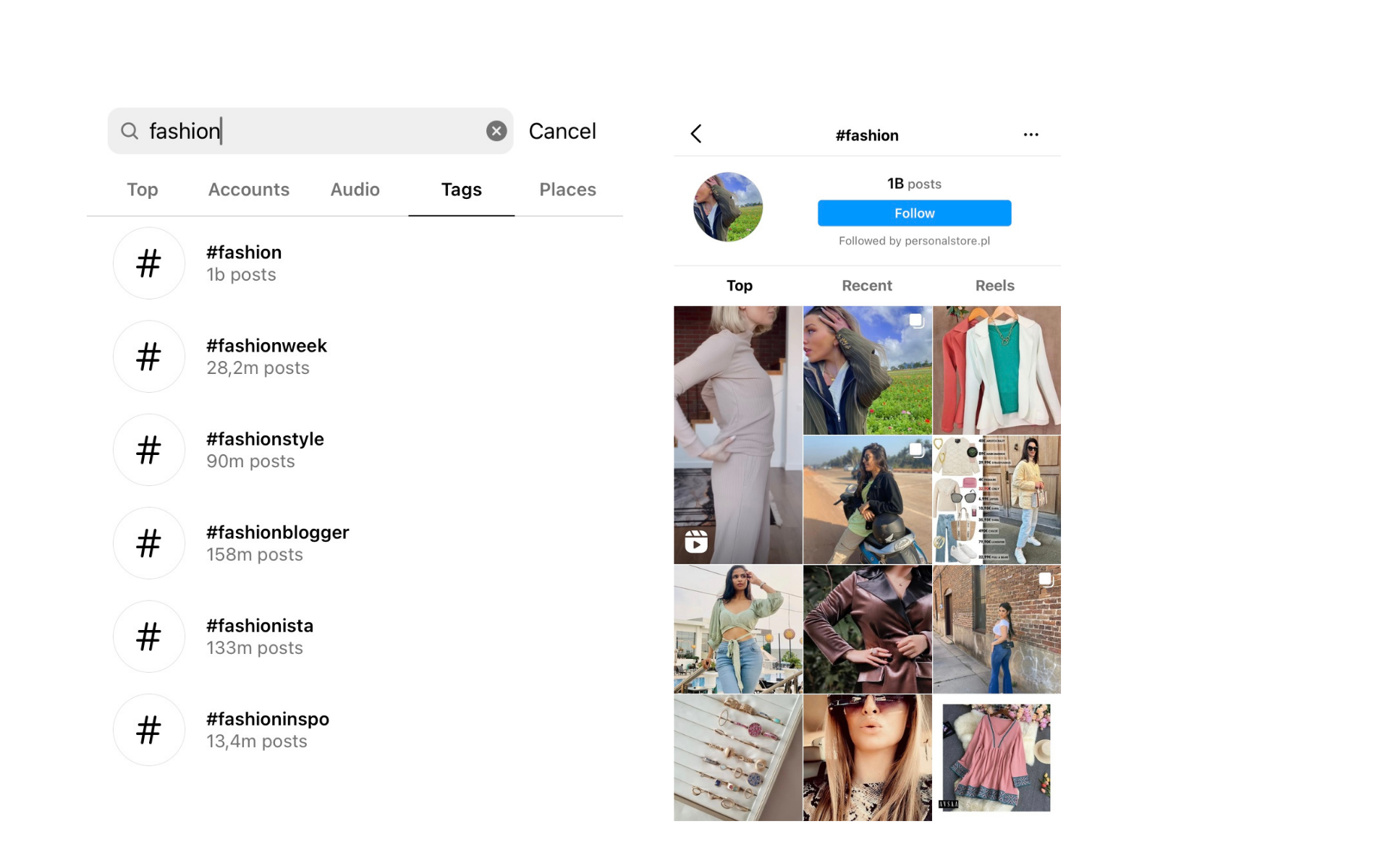 Trying to rank for the hashtag #fashion has a difficulty of 11/10. But if you pick a more targeted hashtag, like, for example, #fashionforkids, it's instantly much easier to rank for.
A niche, targeted hashtag contains the general, a bit generic "head" hashtag inside, but it also includes a few extra words that make the final hashtag more targeted to a specific group of Instagram audience.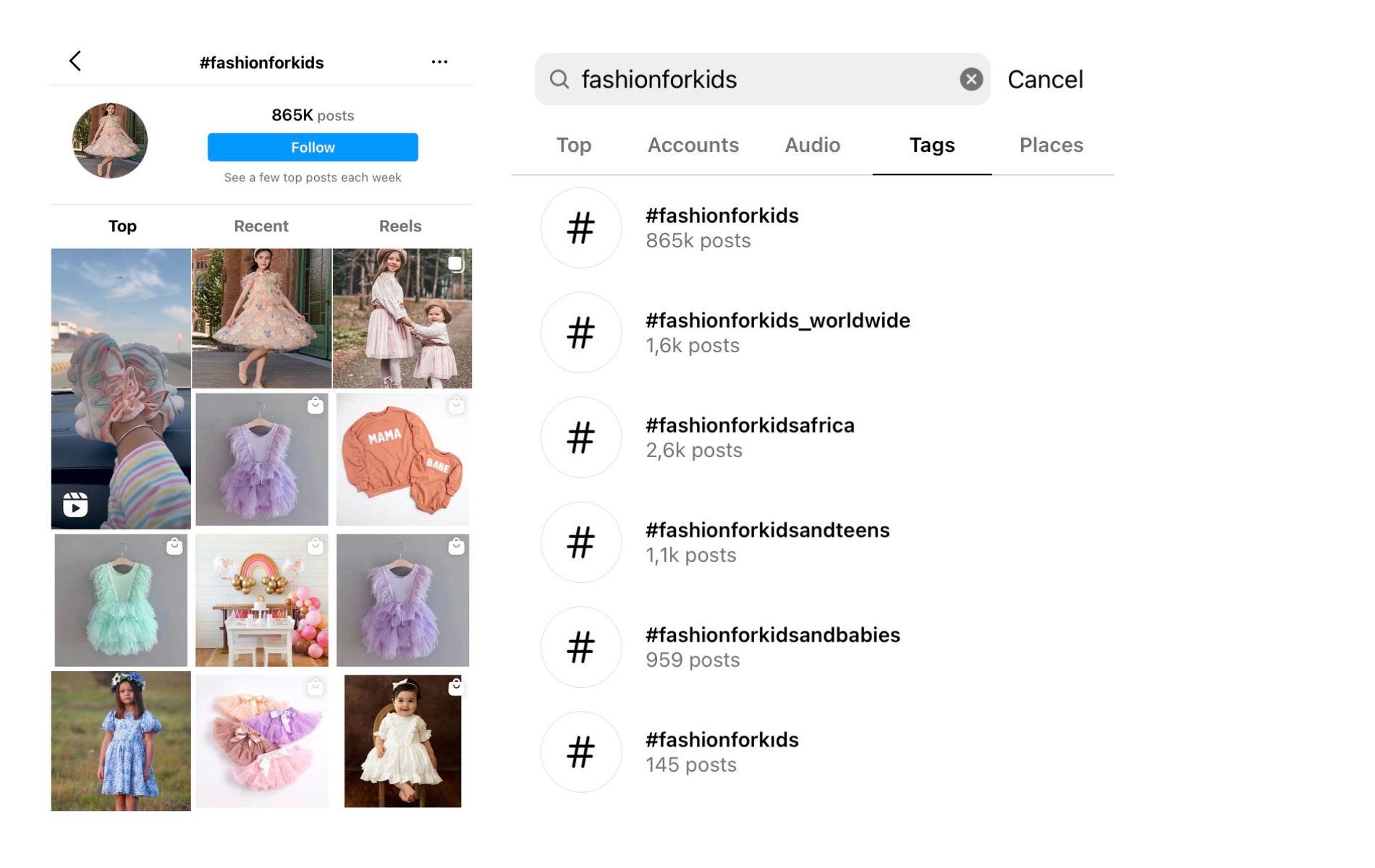 For example, #food is an EXTRA generic hashtag, right? It includes TOO MUCH CONTENT, and it may have a lot of searches all the time, but it isn't targeted at all.
On the other hand, #foodforabs is a niche, well-targeted hashtag catering to a specific group of potential followers, i.e., users looking for recipes (or products) that will help them gain muscles. 
Targeting your audience using niche hashtags will position your posts much quicker than any general, popular hashtag. Even if the search volume of your niche hashtags isn't big at all, it could still bring you many valuable views (and higher engagement). 
Key takeaway? Stop trying to rank for too competitive hashtags, start competing for easier to rank, niche, well-targeted hashtags instead.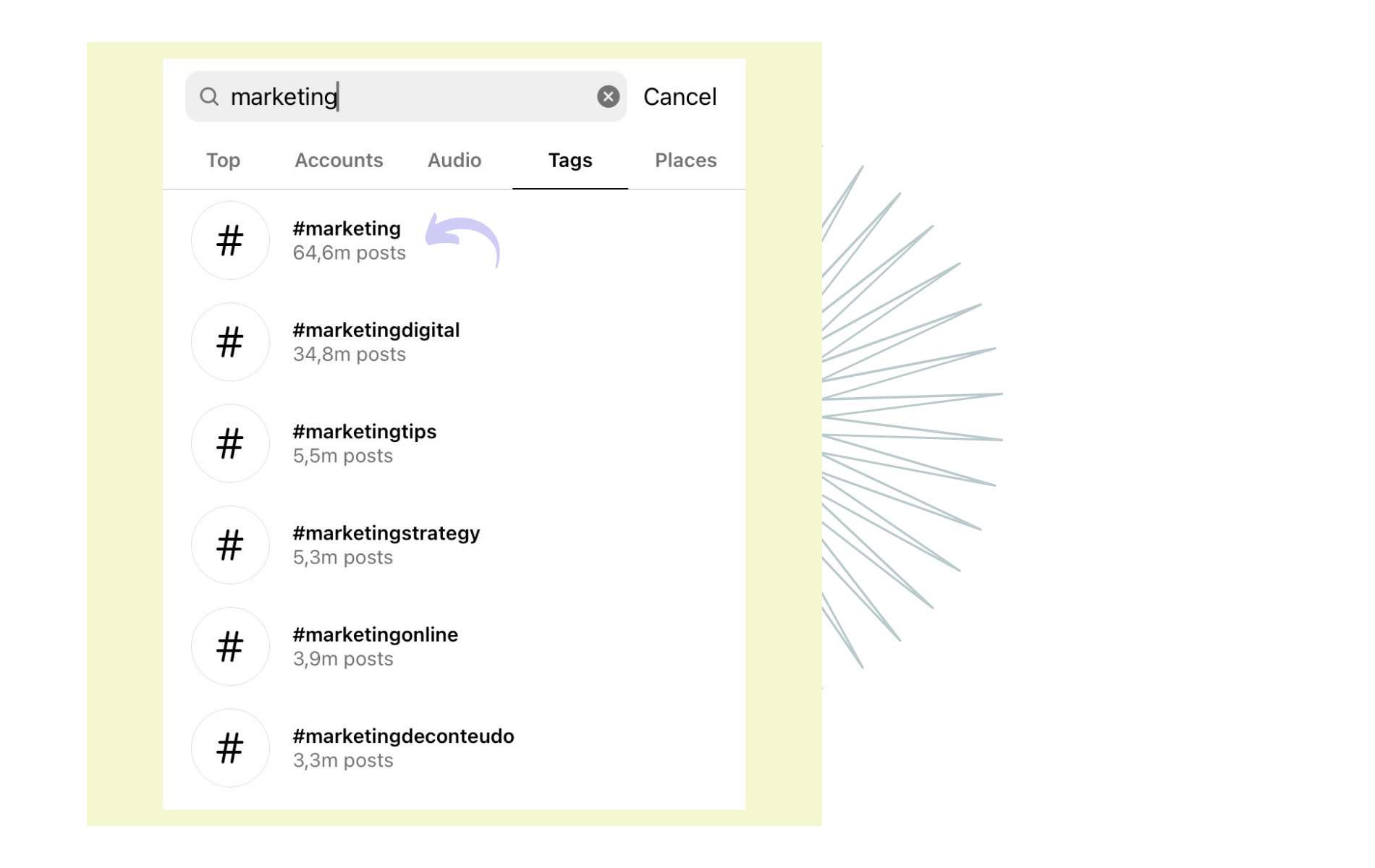 Let me tell you: actually, there are plenty of benefits of using smaller, well-targeted hashtags. Here are two of the main advantages: 
Less popular, medium, niche hashtags have less competition
Therefore, such hashtags are significantly easier to be ranked for – you already know that.
You may be a bit sad about the lower search volume. But hey, it's almost impossible to rank for a super popular hashtag now, with your (current) account's size.
On the other hand it is far easier and more possible to rank higher for more niche hashtags. And despite this lower search volume, you can still get a lot of organic reach, and precious engagement from new potential followers, once you acquire a top position for that hashtag.
There is a ton of competition and content overload for common, popular hashtags since they are just broader. At times, a massively popular hashtag can have billions of results.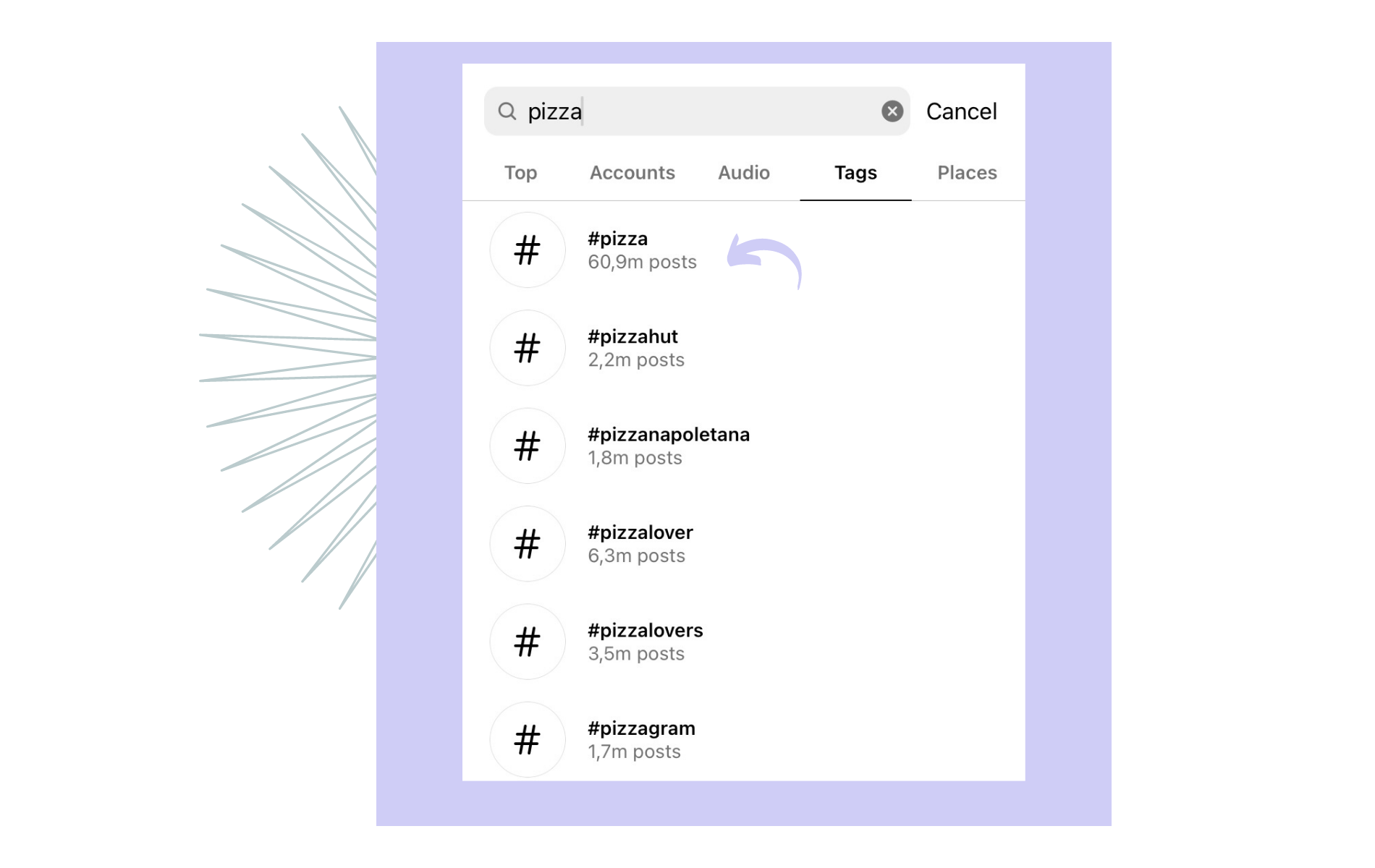 But for a medium, niche, well-targeted hashtag that is more focused, there may be thousands of results. For instance, the hashtag #pizza generates 60,9 million search results (=60,9 million different posts!), whereas #italianpizza generates only 473k search results. And #canadianpizza generates only 8,1k search results.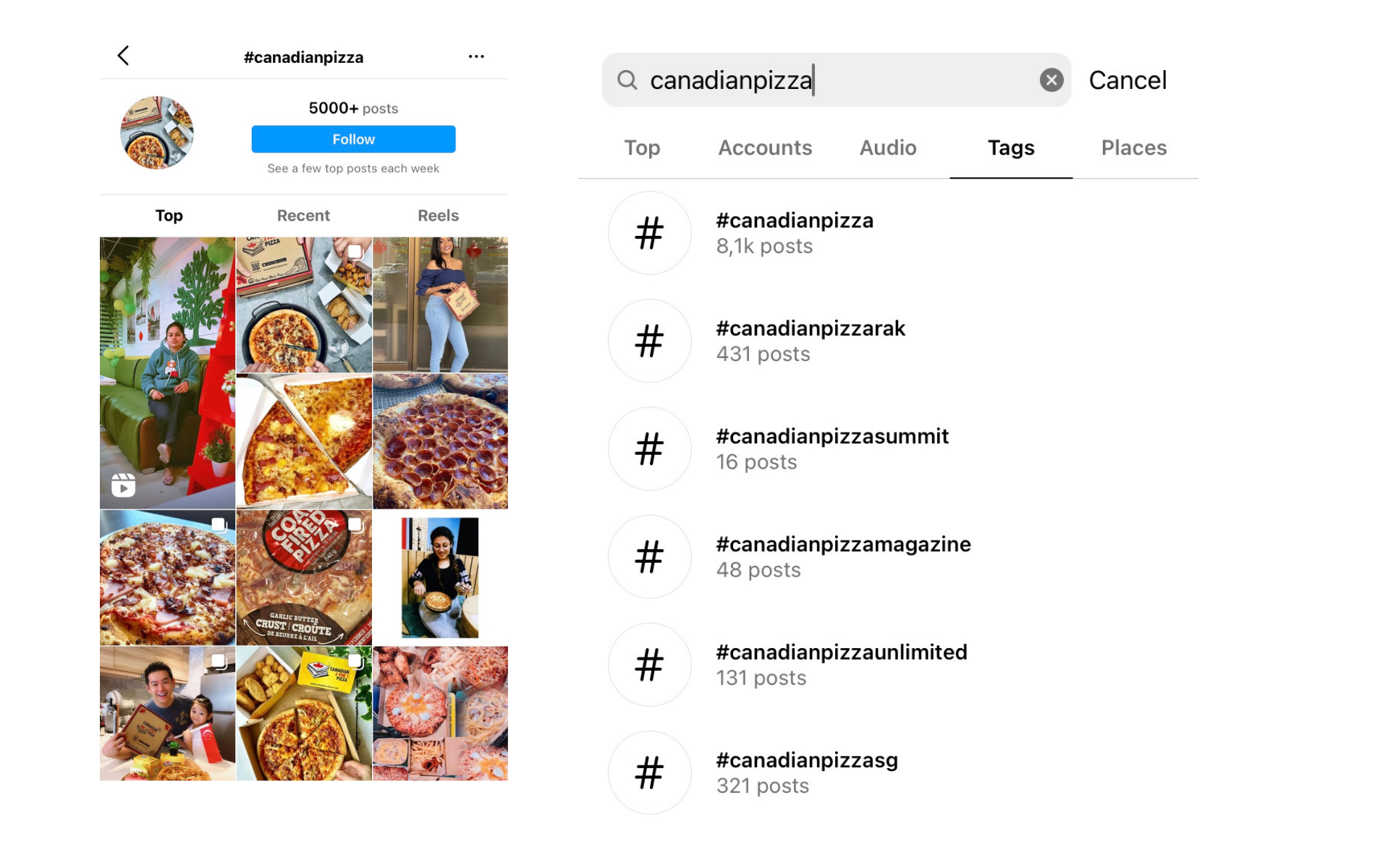 Lower search results mean far less competition, making it easier for your posts to rank—a win-win.
Furthermore, unlike overly popular, generic hashtags, niche, well-targeted hashtags attracts your target audience – not just the random people.
They just target the audience much better.
By choosing niche hashtags, instead of generic ones, you are more likely to attract people who are genuinely interested in what you have to say and offer.
For instance, if someone is looking for #pizza, it indicates that the searcher isn't looking for anything in particular – most probably just pretty foodporn to become extremely hungry. But, on the other hand, when someone is specifically searching for #canadianpizza it may mean that this person is looking for a place to eat, not only look at! Which means this content can attract an actual CLIENT, not only some random, meaningless views. 
This is one of the most crucial reasons why niche, well-targeted hashtags are so beneficial. If you want to target specific users, it should come much easier.
Now that you know why niche, well-targeted hashtags matter, how can you start using them in your Instagram strategy? Let's go – I'll share my top tips, to find hashtags that will give you the results you're looking for.
Do

Hashtag Research
Hashtag research can help you discover new hashtags you haven't ever considered. It can also help discover hashtag variations trending in your niche right now. It's always smart to develop your new hashtags through good research. That way, you can find phrases your target followers are actually searching for.
The simplest way to start generating some niche hashtags ideas is to use the hashtag research tool – you can conduct intuitive research with the help of IQ Hashtags' Search Hashtags Feature.
As I mentioned earlier, niche hashtags have a lesser search volume, but this shouldn't stop you from choosing those hashtags.
Quite the opposite.
Don't be tempted to choose overly general, too popular hashtags with thousands and thousands of new posts being added to it every minute.
This is one of the most common mistakes aspiring creators and business owners make when they are looking for new Instagram hashtags.
How to browse hashtags' search volume?
You can do it manually, right in the Instagram search bar, or you can use a special tool to make your life easier. Although there are many tools, IQ Hashtags is (in my opinion) still the best option you've got. Give it a try. How? Log in to IQ Hashtags, choose the "Search hashtags" tab, input your primary hashtag, and click the "search" button. In my example, I have used "marketing" as the main hashtag.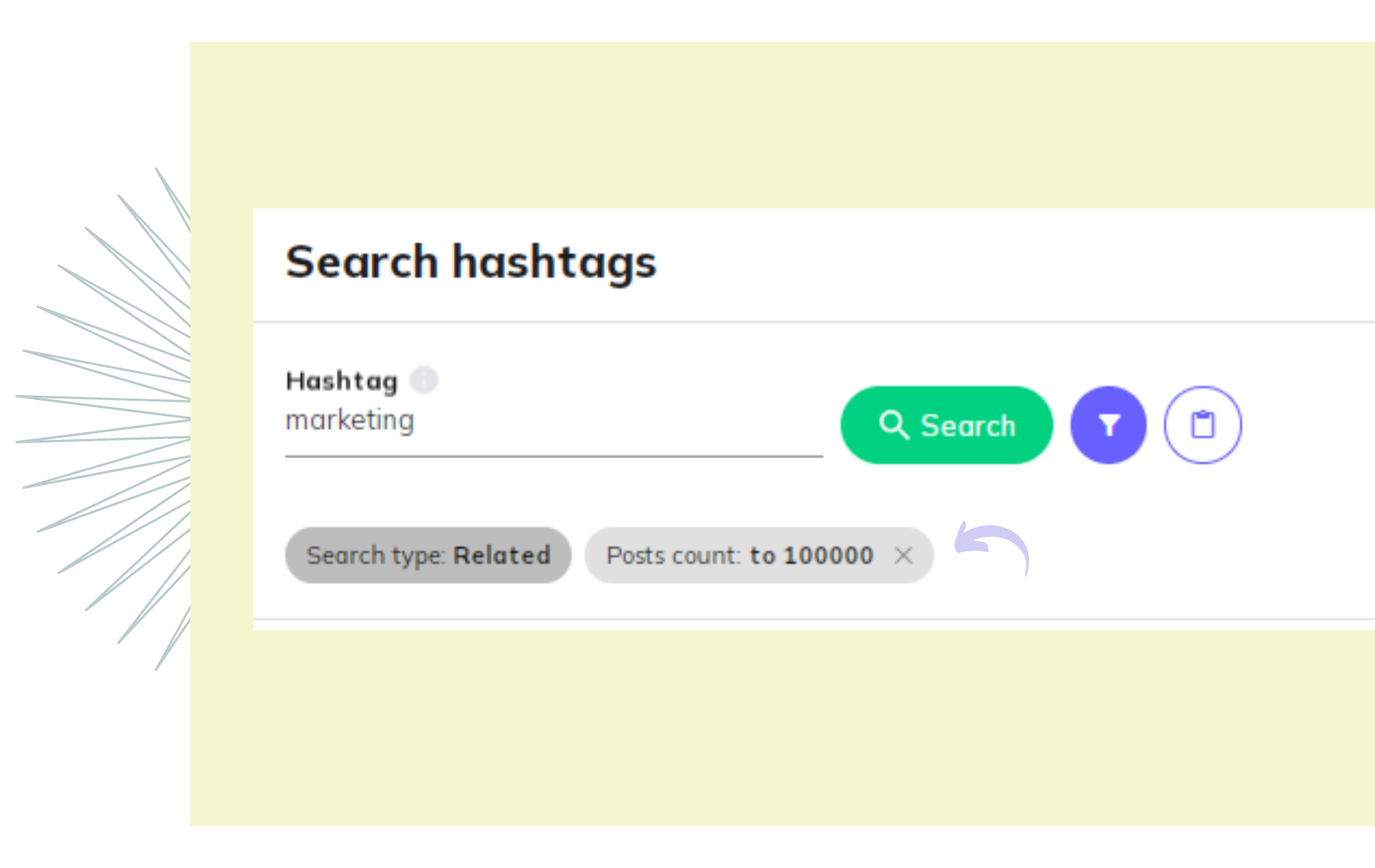 With this "Search hashtags" tab, you will discover a whole lot of different hashtag ideas with their search volume. 
As you can notice right here, the search volume of each of the hashtags is relatively lower. But since they are niche, well-targeted and narrowed, they will be much easier to be ranked for.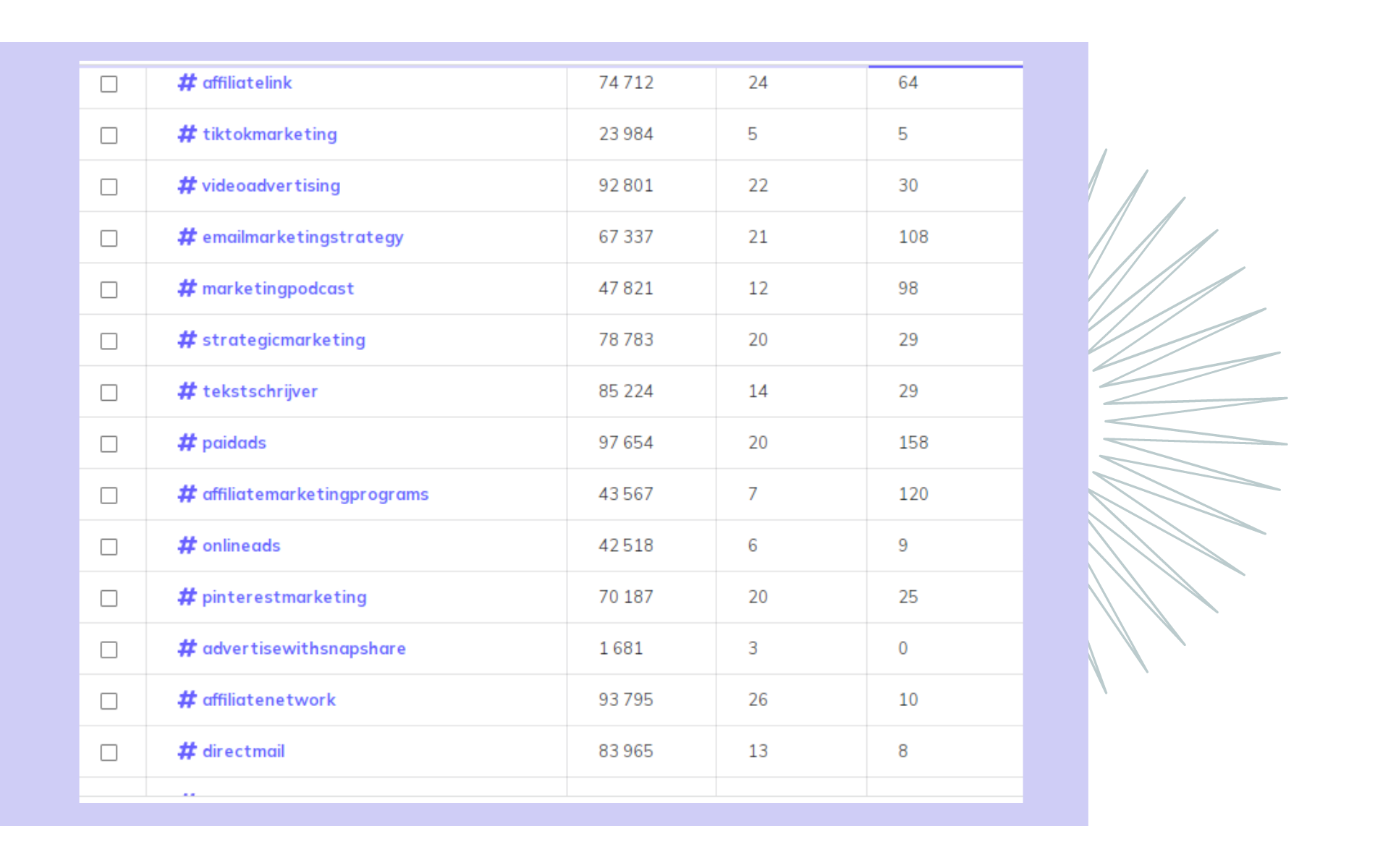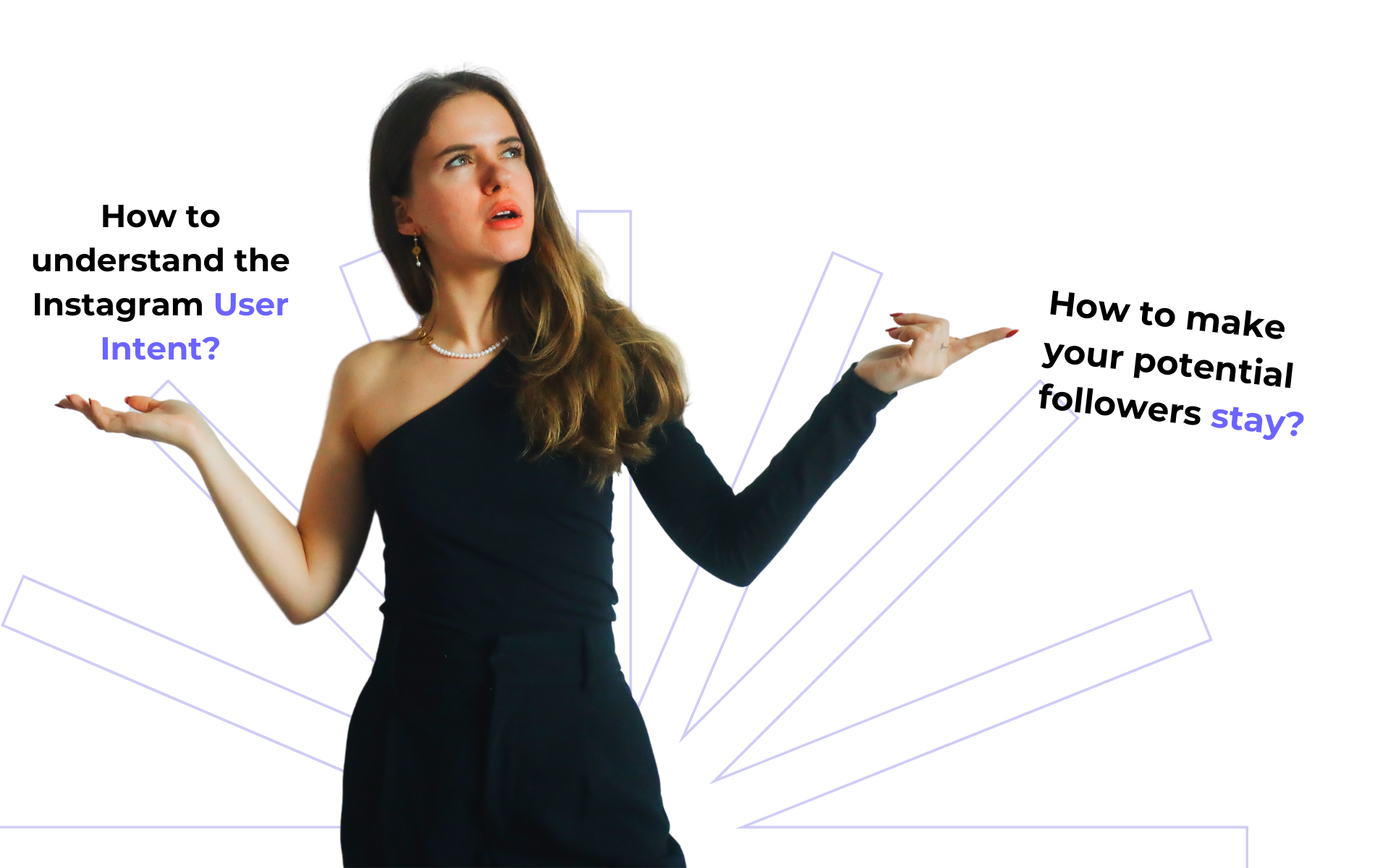 Whatever you do, don't use any hashtag that isn't a good fit for your content, even if you think they will be easy to rank for, and bring you some extra likes or comments. For instance, don't use the hashtag #seomarketing when posting a selfie without any marketing-related caption. 
Using irrelevant hashtags to "trick people into believing your content is something it's not" is against Instagram's spam policy and could result in your post being reported as SPAM. 
Bottom line: Keep your hashtags relevant.
How to make your potential followers stay? Create engaging content
Finding good, well-targeted hashtags is only half the battle. 
Creating engaging content – well, this is undoubtedly the most challenging part. Mediocre content doesn't work anymore. Those days of Instagram are long gone. Instagram's algorithms have evolved into providing its users a high-quality experience.
You need fantastic content. 
Out of 8 different Instagram marketing challenges, content creation is the biggest of them all for so many aspiring creators. So how do you create the right content with niche hashtags to boost its visibility?
The idea is to create inspiring, genuine, in-depth posts that really answer the questions of your target audience. If it is attractive for your followers, Instagram will take extra care of its high search position.
Keep in mind your target audience's needs: what do your followers and potential followers want from you? How to understand the Instagram User's Intent?
After making a list of niche hashtags to use, review them again.
Consider why people search for those hashtags.
As I have mentioned earlier, Instagram has evolved significantly over the past few years. While search queries are still dependent on hashtags, "user intent" is a relatively new thing that constantly redefines how Instagram works.
Once you understand the user intent of your Instagram target audience, you can then use the niche hashtags that satisfy their need. 
Monitor hashtag performance.
Once you find new sets of niche hashtags, it's always a smart idea to analyze their performance. Hashtag monitoring is an activity that tracks the position of your posts based on particular hashtags. This process enables you to analyze relevant metrics and data – to find out which hashtags are currently the most effective for your target audience. From my perspective – using a professional tool, like my fav IQ Hashtags can help you gain a better understanding of how to tailor your hashtag strategy and promote your content more effectively: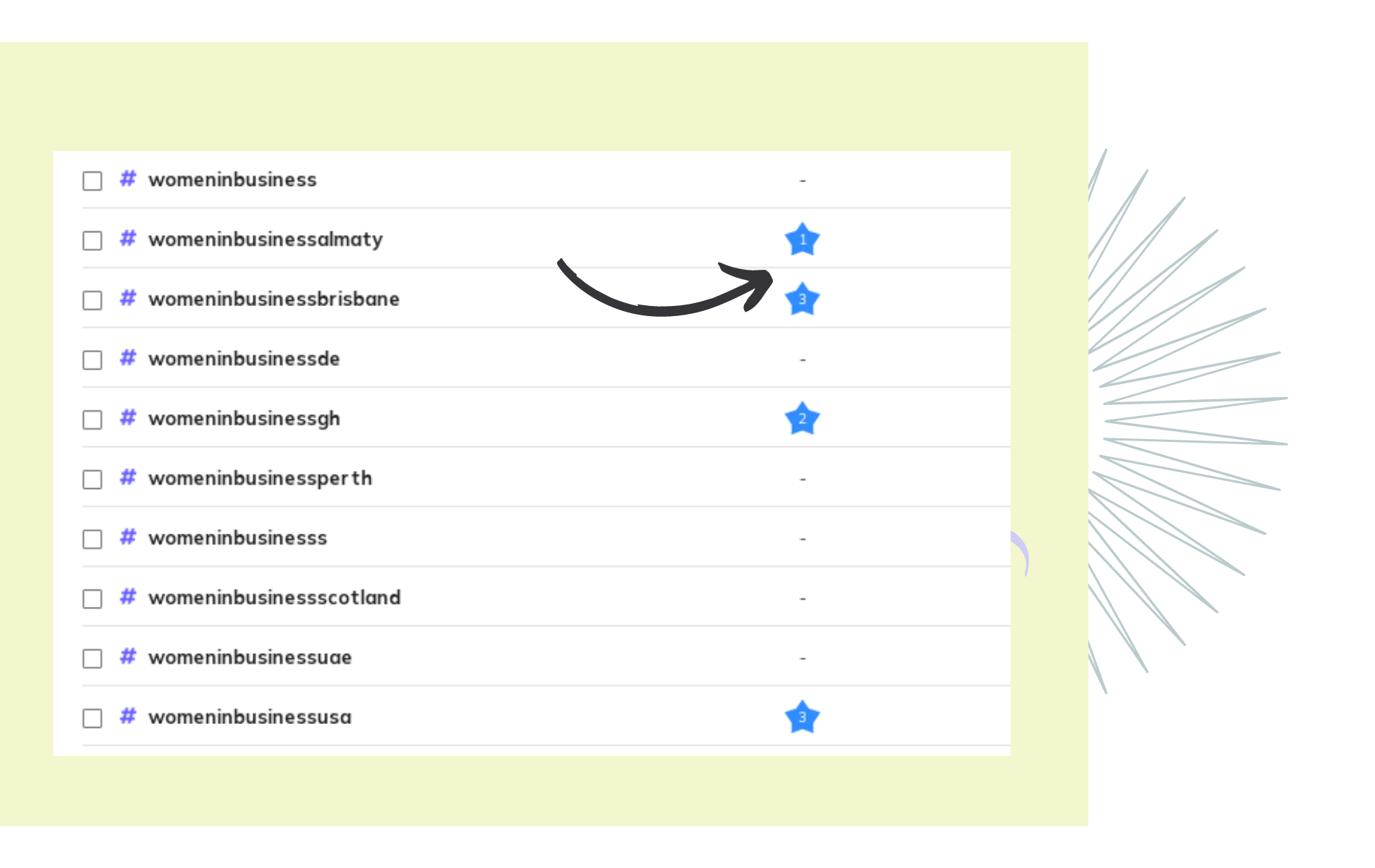 Now that you have new knowledge, and you'll soon find new niche hashtags, ready to attack, you can check out some of the other guides from our Instagram Hashtag Knowledge Base that will help maximize your marketing efforts. See you there!