Do you know how to use Instagram Stories for your business? In today's article, I'll share 4 tips for using this content format to showcase your brand or yourself like a real PRO. If you're seeking effective ways to increase your engagement, be more visible on the platform, or drive more traffic to your website and sell more products, this post will bring you one step closer to achieving all of these goals.
Got your pen and paper ready? Alright then, let's dive in! 


What Are Instagram Stories and How Do They Work?
I think you already know what Instagram stories are. To sum it up in a few words: a story is a format with vertical, full-screen photos or videos complemented with interactive stickers, polls, text, and other graphic elements. Once published, stories disappear after 24 hours. 
It is a very addictive form of content because it's fast, fun, and very easy to engage with.
How do we know that? There are some serious numbers to back up this statement. So let's shortly talk about some facts & figures that show why you shouldn't be overlooking Instagram stories in your business marketing strategy these days. 
According to the internal Instagram data:
Over 500 mln people use Instagram Stories every day. That is a vast number, and many opportunities to interact with your audience!

Almost 4 mln businesses advertise on stories every month

58% of people say they have become more interested in a brand or product after seeing it in Stories
50% of people have visited a website to buy a product or service as a result of seeing it in Stories
As you can see, it is a very high-performing form of content, that resonates with people often due to its raw and authentic nature, and it should become a part of your business communication right now, if it hasn't yet. Every marketer knows that a good story is crucial for every brand to thrive, and it's time for you to start building your own by following these 5 tips.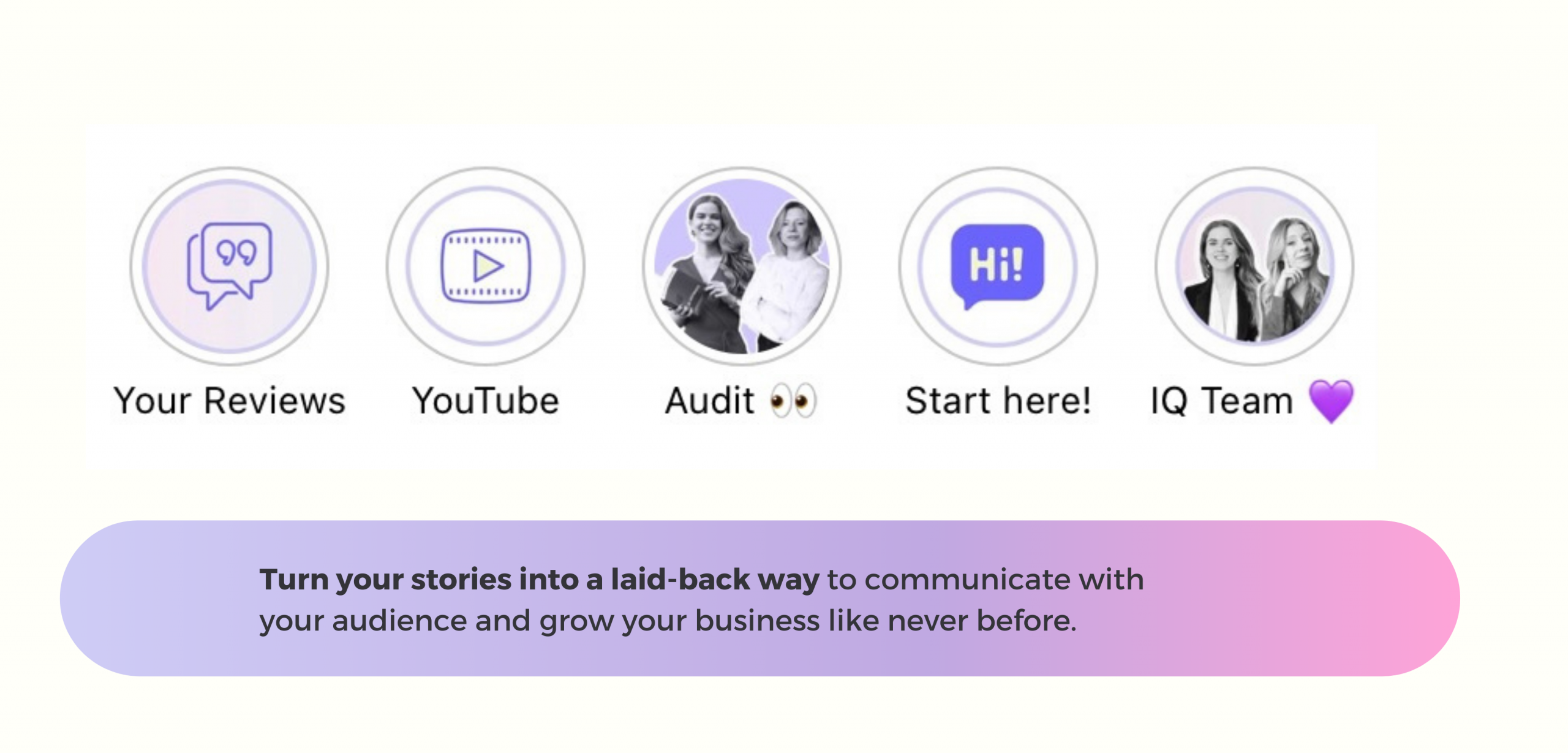 Use Polls, Stickers, and Ask Questions 
Interactive stickers, polls, quizzes, or short questions in your stories are fun to engage with your community, and they take only a second to participate. It is a way more uncomplicated form to generate engagement in your profile than your feed posts, and I'll give you at least 3 reasons why they can benefit your business.
Often people don't even need to comment on your stories to interact with them. A simple "this or that" game, or a question about your product like "Would you like this dress back in stock?" allows them to respond to you with only one click.
Inviting your audience to join your brand's story makes them feel like they are part of the conversation and that their opinion really matters to you. 
Any action taken on your stories through interactive stickers, quizes, or polls says to the algorithm, "ok… this guy is connected with this profile, so he will probably like to see more of it". This is one of the "signals" for Instagram, they use to start pushing your content higher in your followers' feeds or, in the case of stories at the beginning of the stories bar at the top of their screen. 
I'm sure you know how it works from your own experience. You open the app, and the first thing you see on your feed are mostly profiles you are genuinely interested in for whatever reason. You are more likely to engage with their content again because you've shown interest in what they do in the past. 
Instagram stories can help you build this kind of connection with your audience, and these fun features can be very helpful in achieving that.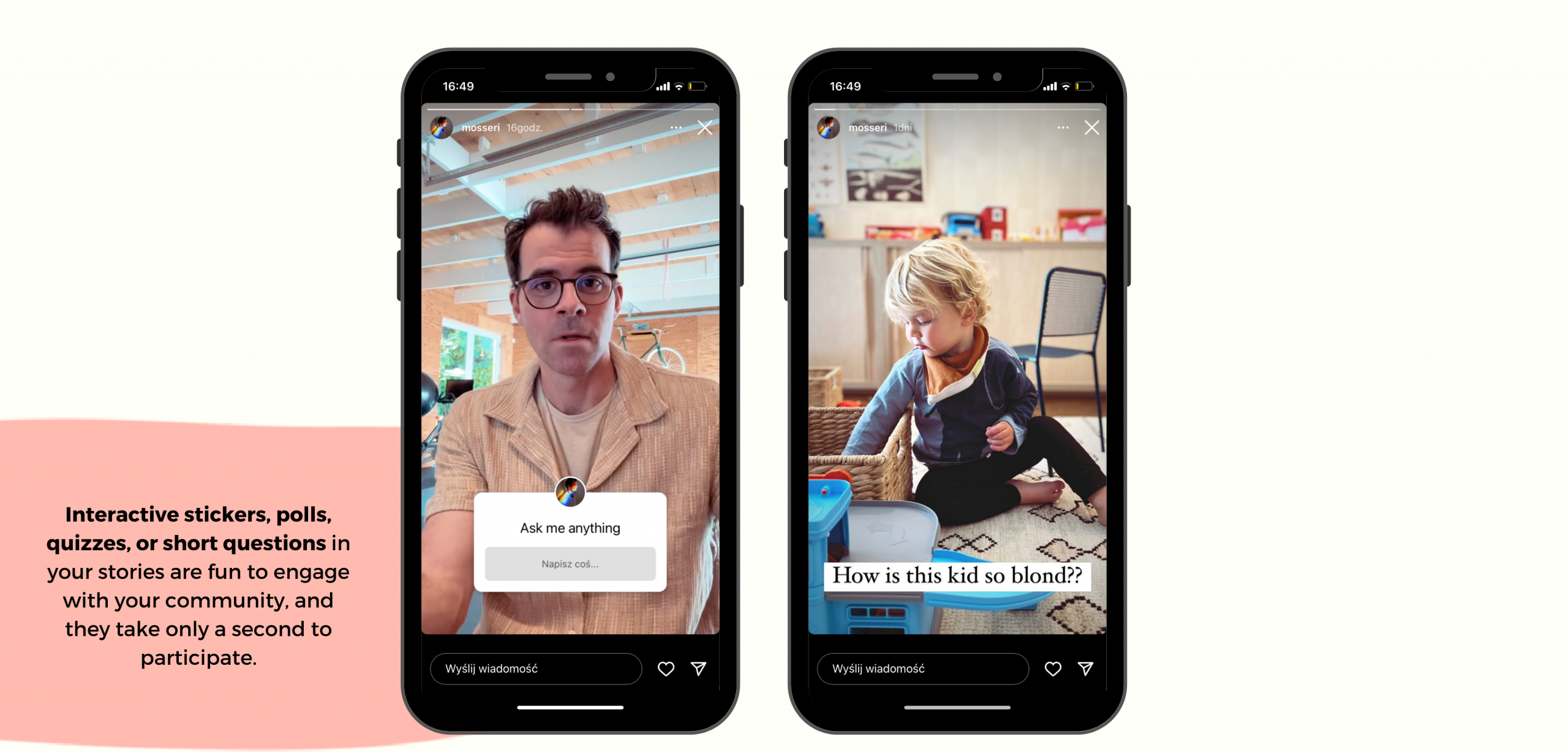 Another benefit of using Interactive stickers, polls, quizzes, or short questions in your stories is getting feedback from your audience to learn what they expect from your brand, and what products or services they like the most. If you're a coffee roastery, you can create a poll for people to choose their favorite type of coffee like Brazilian beans or Colombian beans. 
The results you'll get from a simple poll like this one, can help you decide about your shops' product choices. For example, if your audience prefers to drink Brazilian coffee, you can move a step further and ask them if they'd be interested in a brewing kit to make the best Brazilian coffee. If they are, you have just tested the waters before adding a new product to your offer and know that your audience will be interested in purchasing it in the future.
I love coffee, but I don't know much about it, so if you're a coffee business or a coffee fanatic, forgive my lack of knowledge in this area. This is all just an example for how to use stories to make better product choices for your brand.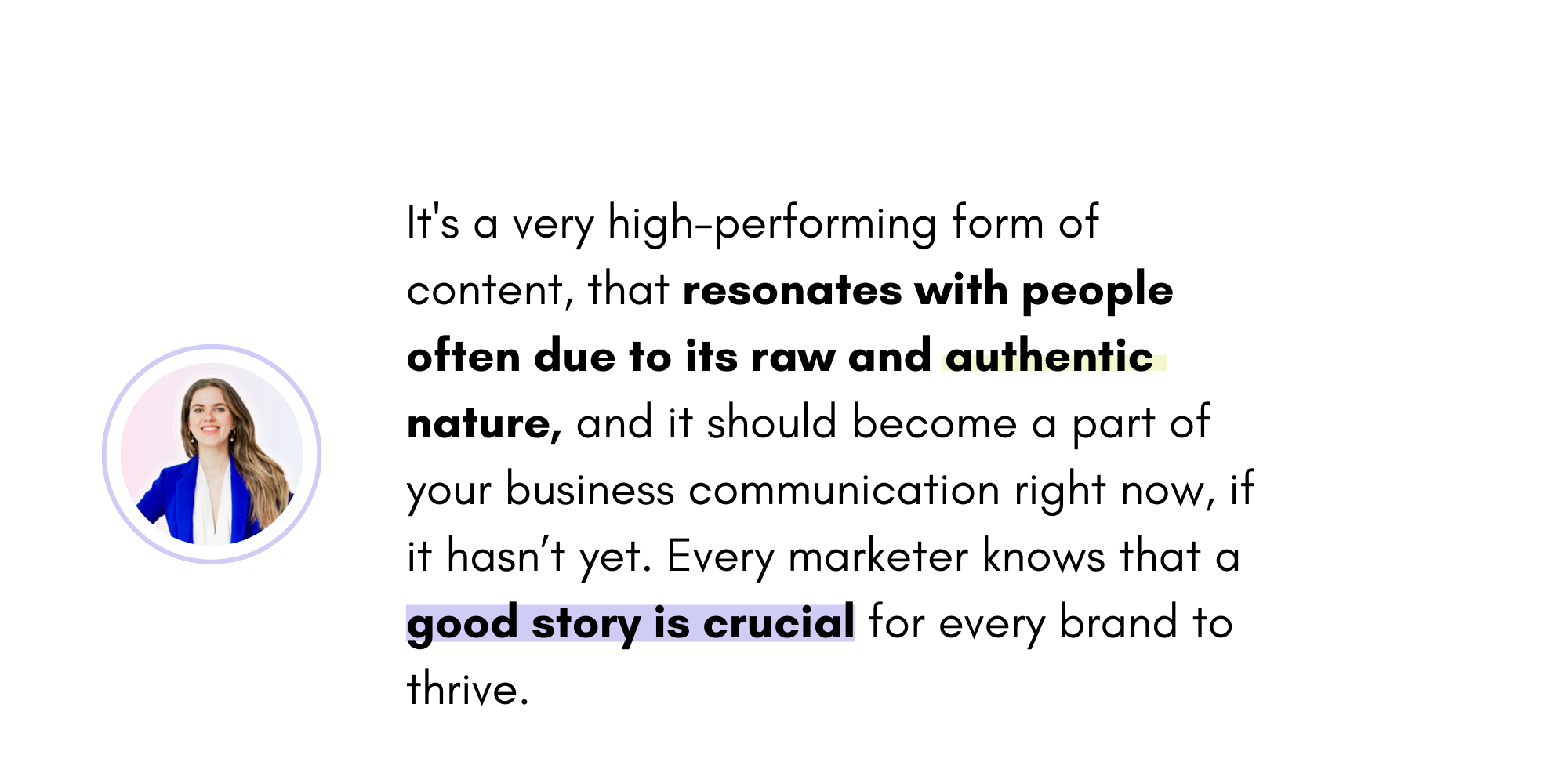 Don't Forget about Calls to Action
Call to action is an essential element of your stories that will work amazingly well with all the available features we just talked about.
Any content you create, whether it's a story or a feed post, you do it for a reason. Think about what is the goal you want to achieve with your next story. Whether it's driving more website traffic, building some hype around a product launch, or building a newsletter, a call to action tells your customers what to do with the piece of information they just got from your story.
So let's say you offer a discount code that's only available today. Use a clear call to action like "Get 20% off your next purchase! Got to the link in bio to claim your discount today." Thanks to this short message, your audience will know exactly what you have to offer and what to do about it. If they are interested in your product they will go to your link in bio and hopefully make a purchase. This allows you to send your audience wherever you want directly from your stories.

Show Your Authentic Side
I think we can all agree that video format is the future of content marketing, and it will NEVER go away.  And before you go all nervous about it, here comes a quick disclaimer – there is still space for other formats on Instagram, like Carousels, graphics, photography, and you don't need to pivot to video content completely. However, many businesses implemented videos into their content strategies and will continue doing so because they are more engaging and attention-grabbing than text or images. 
Transparency and authenticity, especially in video forms are a huge emerging trend not only for creators but also for businesses. So don't be afraid to show your real side. Talk about your products. Tell people about your brand's journey. How much work do you put into every single product. How much you care about your clients.
It's time to invite your followers backstage and tell them: hey! This is what we are all about!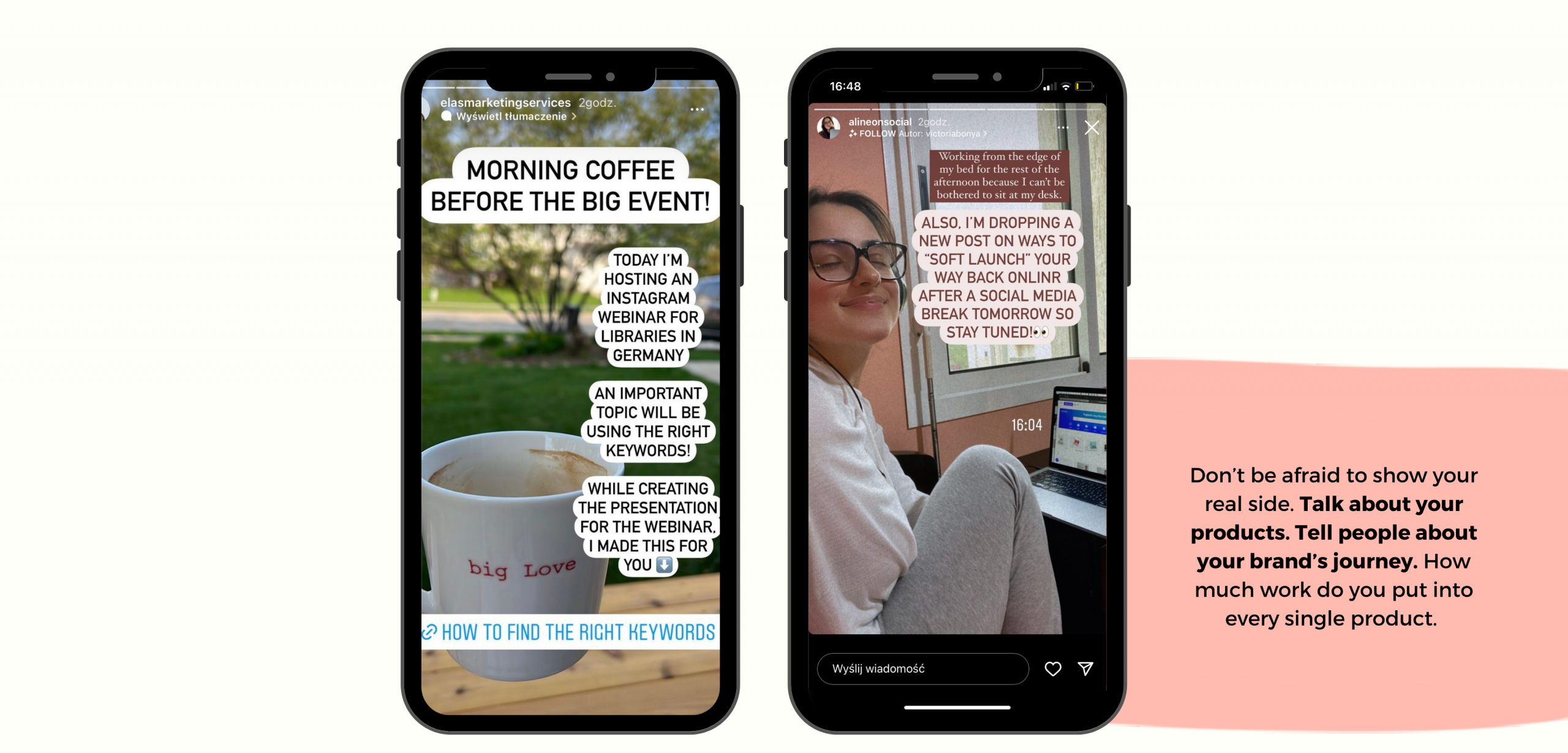 Maximize the First Few Seconds
Instagram stories are a fast environment, and if you want your viewers to take action, the first few seconds of your story should be the most engaging. Facebook data confirms that Top performing ads integrate branding and key messages at the start to achieve best results. 
Try to place the most important elements like your logo, product, and a key message in the first 3 seconds of your story. Then, pair your images with central placed text to draw attention. Play around with motion in your videos or use music and voiceovers to make your stories a multidimensional experience for your viewers.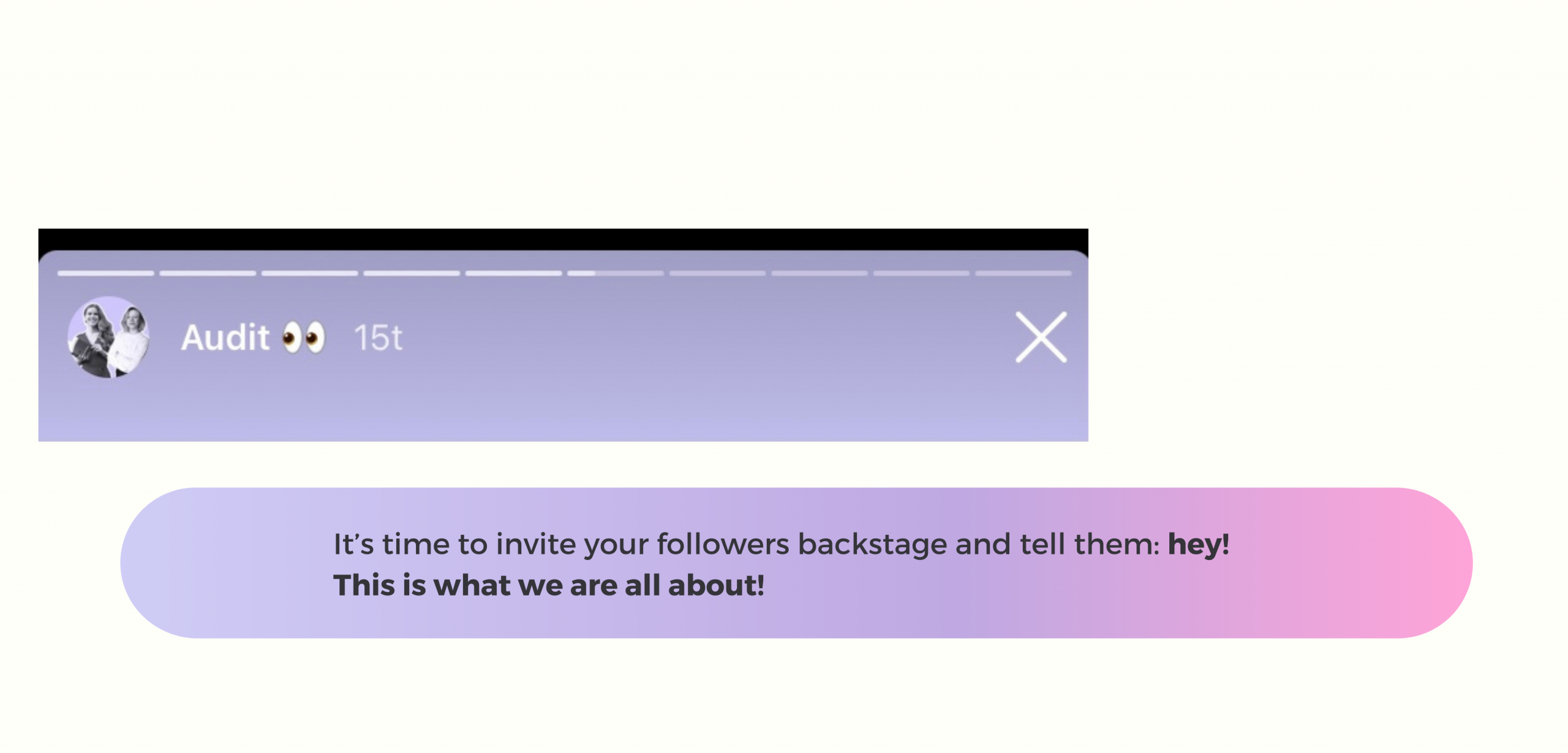 That's it for today. Hopefully, these 4 tips for using Instagram Stories to showcase your business like a real PRO have already made you feel like one! By following them, you'll turn your stories into a laid-back way to communicate with your audience and grow your business like never before.
But before you head over to create the most fantastic story, if you found this article helpful, I'd appreciate it if you let the Google algorithm know about it by commenting it down below!
I'll be back with more Instagram wisdom tomorrow, but in the meantime check out other articles, and follow us on Instagram for more Instagram news and trends helping you to grow a powerful Instagram profile.