Has music stickers become available in your country just now, you're really excited about it but not sure how to start? That's what I'm here for! Music is a powerful tool to build community so let's learn how to use it in your stories together. Allright! Let's learn how to add music to instagram stories today!


Instagram Music Isn't Available in Your Region
"Instagram music isn't available in your region" can be the most annoying message you can come across while watching your favourite creator's content. 
Some of you have never had this problem before, but you can imagine how bad the experience was or is for everyone who only sees moving images with no sound on them. 
Let me make this very clear – it's just not great and I'm sure many of you can share your experience in the comments below. Unfortunately, a lot of you will still need to wait for this exciting feature to roll out in your region, but this month the list of the countries with access to music stickers has expanded, and that's incredibly exciting news for so many Instagram users!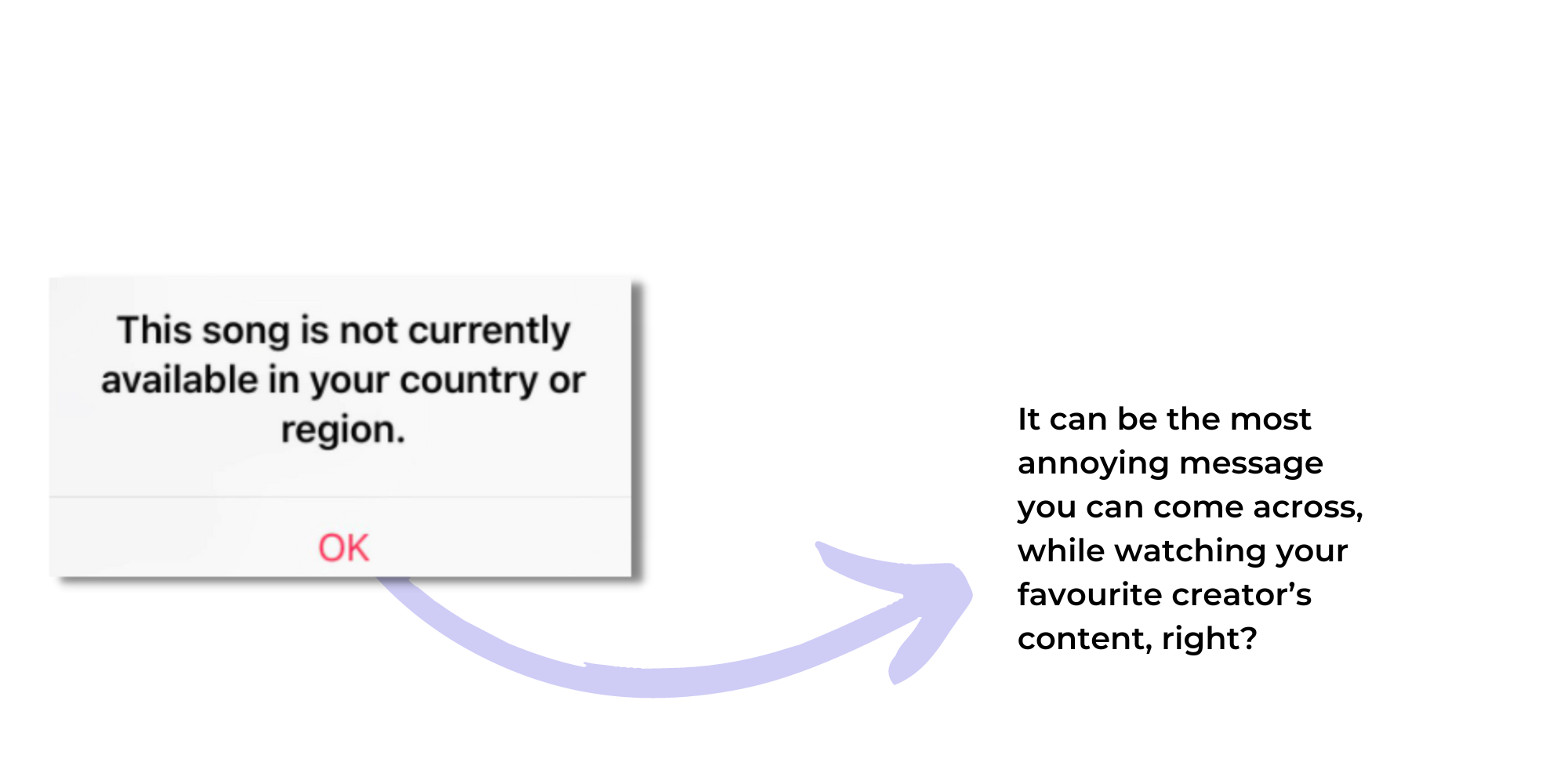 Some of the countries where the music sticker has been available for quite a while now are: US, UK, Australia, New Zealand, France, Germany, Sweden or Canada.
That's millions of Instagram users that can now enjoy this amazing feature, fully appreciate content from their favourite creators and show off their personalities! 
This is also a sign that hopefully soon Instagram will be able to get the music license for other regions that can't use this feature right now so… let's keep our fingers crossed.  But right now, you're here to create your first Instagram story with music so let's get into it…
How to Put Music on Instagram Story 
First things first, go to your stories and decide if you'd like to add music to an image or a video from your camera roll, or create a brand new one from scratch like a boomerang, some text graphic or record something that you want to share right now. 
Once that's done, tap the stickers button at the top of the screen and select the music sticker.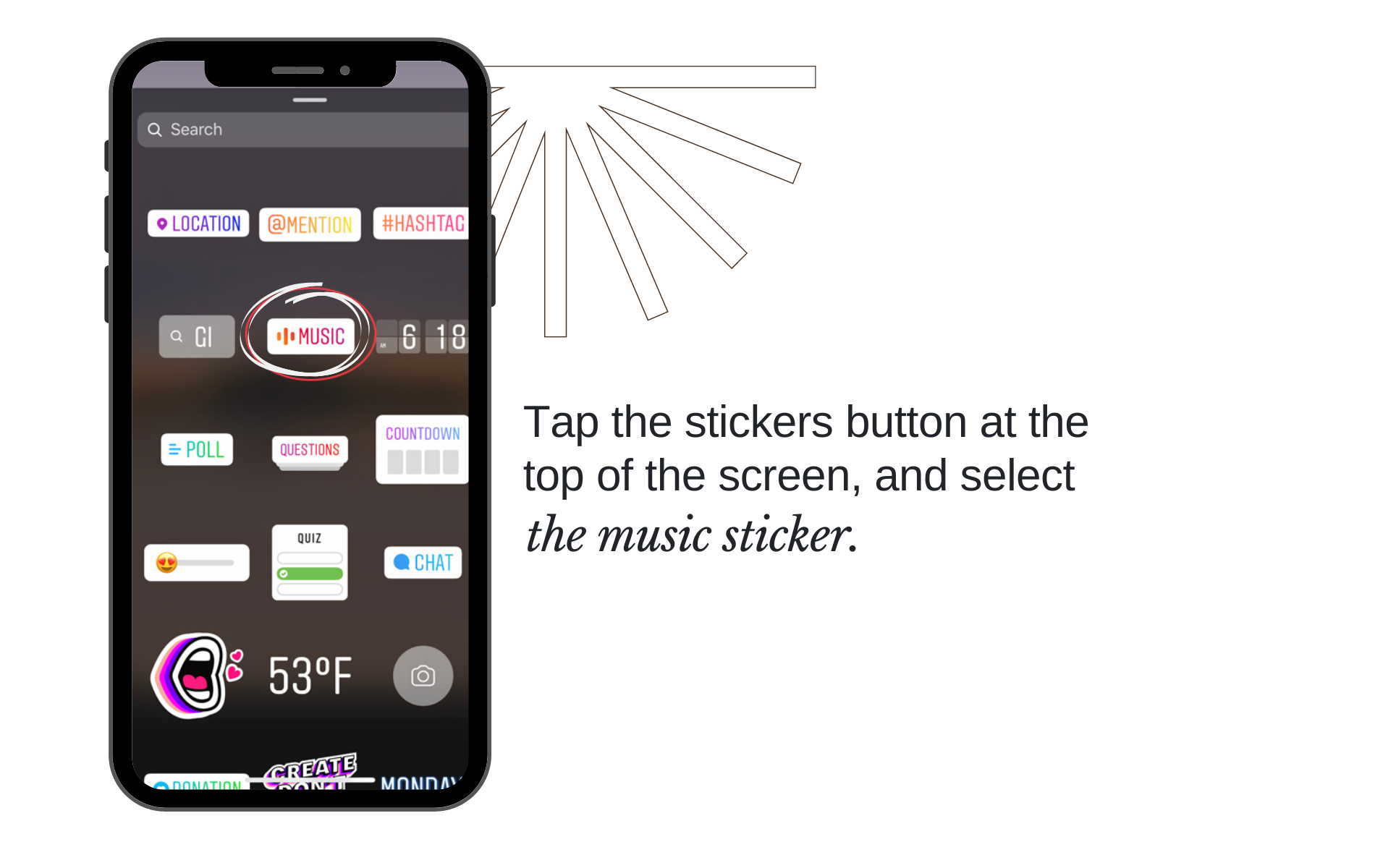 You'll be taken to the Instagram music library, where you'll find a lot of great songs. You can scroll through the "For you" tab with suggested songs or browse through the different genres and themes to find your perfect tune. If you have a specific song in your mind, use the search bar at the top of the screen to find an artist or a song you like. 
Once the song appears in your search results you can also tap the play icon to hear a short clip and make sure this is what you're looking for. 
Got it?! That's great. Now tap on the song you want to include.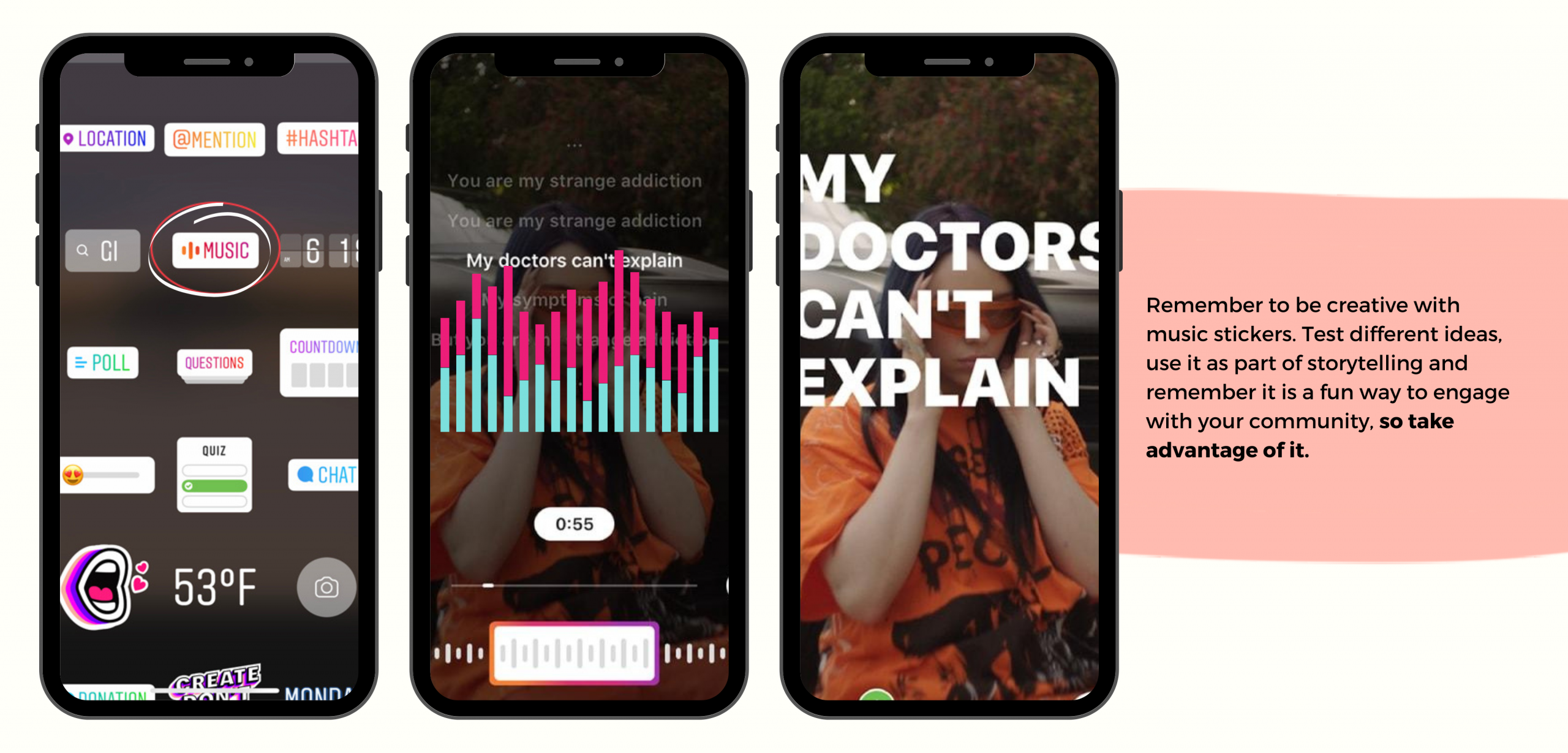 How to Add Music to Instagram Story With Lyrics?
Select a specific part of the song you want to appear in your story and adjust the length of your clip if necessary.  Clips can be up to 15s long so decide how long you want your story to be.
You can also tap and hold the screen to find the part of the lyrics you want to use.
Short, single taps on the screen or the small round text icons allow you to change the style of the lyrics. If you're feeling a bit creative, you can also change the colour of the text to make it stand out more.
If you don't fancy having lyrics on the screen you can completely replace them with the name of the song and an album cover which also looks quite neat. 
When you're happy with all the adjustments done in the top right corner and there you go. Your song goes live! You can move the lyrics around, rotate or resize them like you would with any other sticker. And all you've got to do now is to play with the final look of your story. Make it pop with some special effects and voila – your first music story is done.
Remember to be creative with music stickers. Test different ideas, use it as part of storytelling and remember it is a fun way to engage with your community so take advantage of it.

I hope this step-by-step guide made it easy for you to add an Instagram music sticker to your Stories. Also don't forget to stay tuned for more Instagram tutorials, news and & trends!