How to prevent Instagram account from being disabled? If you're looking for the answer to this question, you're in the right place to learn all the healthy Instagram habits and things to avoid to better protect your account. 
Even if you've already gone through the process of retrieving your Instagram profile, this article will help you find out what may have caused it to be disabled in the first place and do everything you can to prevent this from happening again. Let's dive in!


First things first. Let's talk shortly about:
What Happens When Your Instagram Account Gets Disabled?
You'll be automatically logged out from the app. If this happens while using the app, you'll be taken to log in screen. After entering your details you'll most likely receive this pop up message: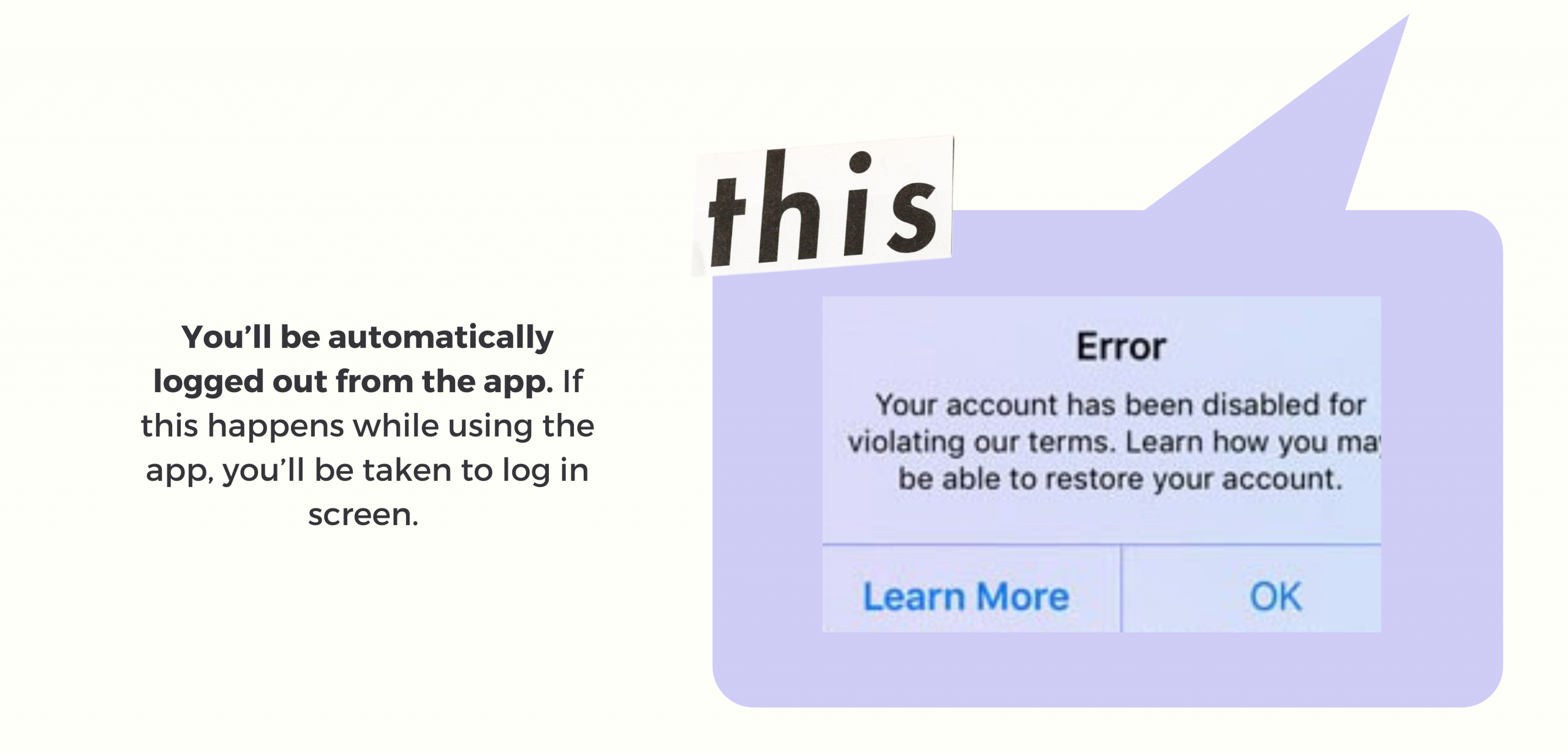 Only if you receive this exact message does it mean that your account has been disabled. If not, there might be other reasons like log in issues or someone has hacked your profile. 
To make sure you take appropriate steps, and actually get any help from Instagram it is good to verify which form provided by Instagram Help Centre is appropriate for your case. Otherwise you might not get any response at all.
If you're reading this article looking for the way to recover your Instagram profile then head over to last week's blog post where you'll find helpful steps, forms and links to get it back ASAP.
Why Is Timing So Important Here?
Because from the day your account gets disabled you have 30 days to get it back, otherwise it will be most likely lost and forgotten forever. So the sooner you take action the better. Of course while your account is disabled you will have no access to your profile, messages, content, followers. Your workload will be pretty much ripped out of your hands.
Another important thing to add here is that this can happen without any warning from Instagram to absolutely anyone. That's why every creator who's serious about their Instagram presence and knows that their profile carries a a huge value to their business, service or product, should make sure to take some necessary steps while your account is thriving to have something to fall back on when the worst case scenario becomes reality and your profile is gone for good. But we'll get back to this at the end of the article, so make sure you read till the very end.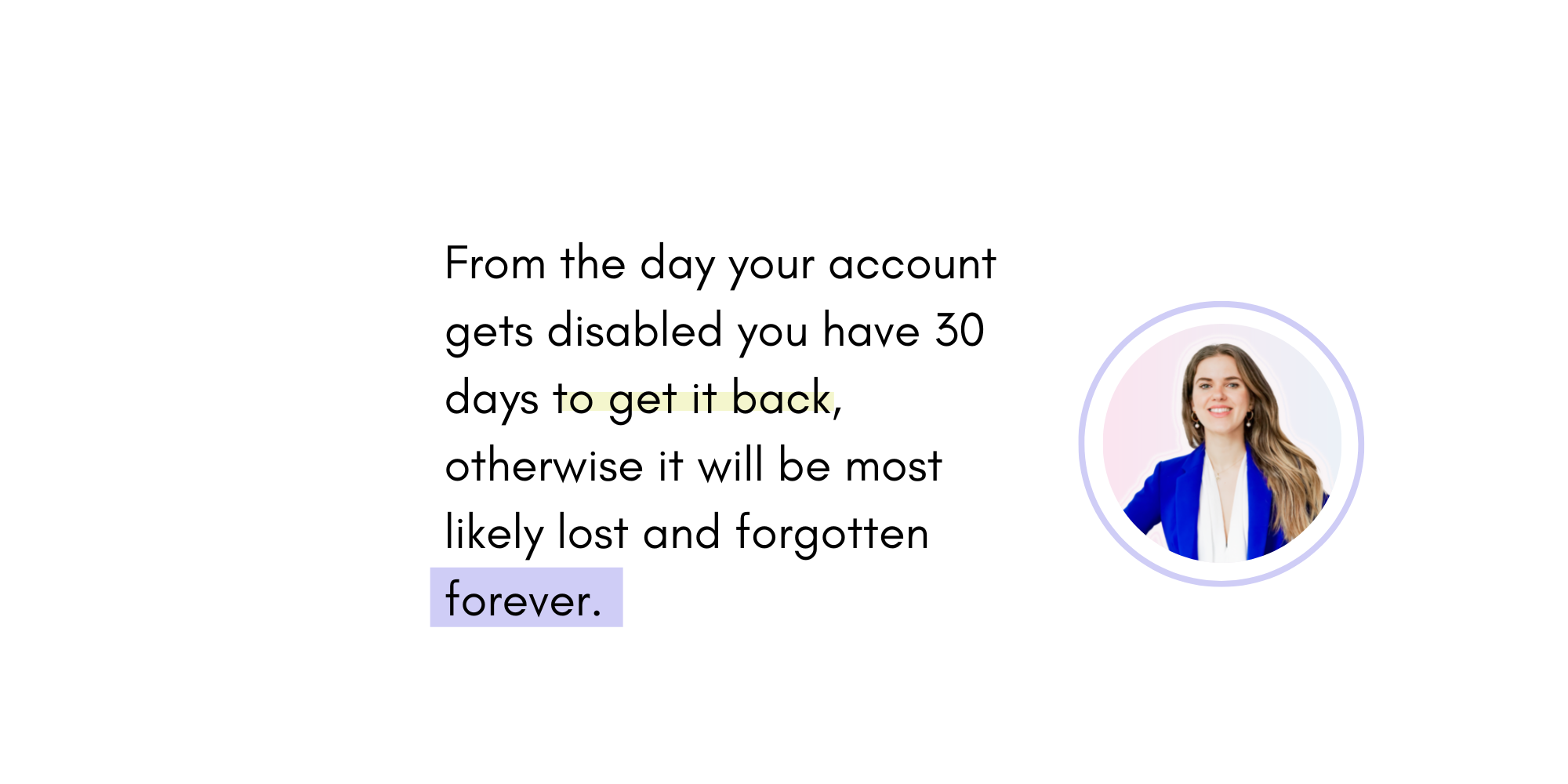 First let's crack on with:
The Things You Can Do to Prevent Your Instagram Account From Being Disabled
Read Instagram Terms of Use
The best way to avoid mistakes on Instagram is to familiarise yourself with Instagram's terms of use – it may sound boring, but it is not a difficult read and can be very beneficial to any Instagram User, especially if you use Instagram for professional purposes. 
Not only does it tell you what could lead to your account being disabled, but it also provides other useful information such as copyright policies, music guidelines, community guidelines. This is an Instagram user manual that we all should read at least once to better understand the platform and protect your intellectual property. 
So if you've been looking for a bedtime story, I've got your back. 
Enable Two-Factor Authentication
The most straightforward thing you can do to protect your profile from being disabled is enabling two-factor authentication. Why? To reduce the chances of your account being hacked. There are multiple dangers that go with it. Hackers can do a lot of damage to your online presence and therefore  temporarily block or even disable your account for taking actions that violate IG terms, for ex. things like sharing photos with nudity or violence in your profile. 
When they take control over your account they can even permanently delete it. But let's not forget that hackers can steal your personal details and I'm sure you know the risk that comes with this one.
If you set it up you'll receive a notification or be asked to enter a special login code when someone tries logging into your account from a device Instagram doesn't recognise. It is very easy to set up. Go to your profile settings, tap security and then Two-Factor Authentication and voila the job is done.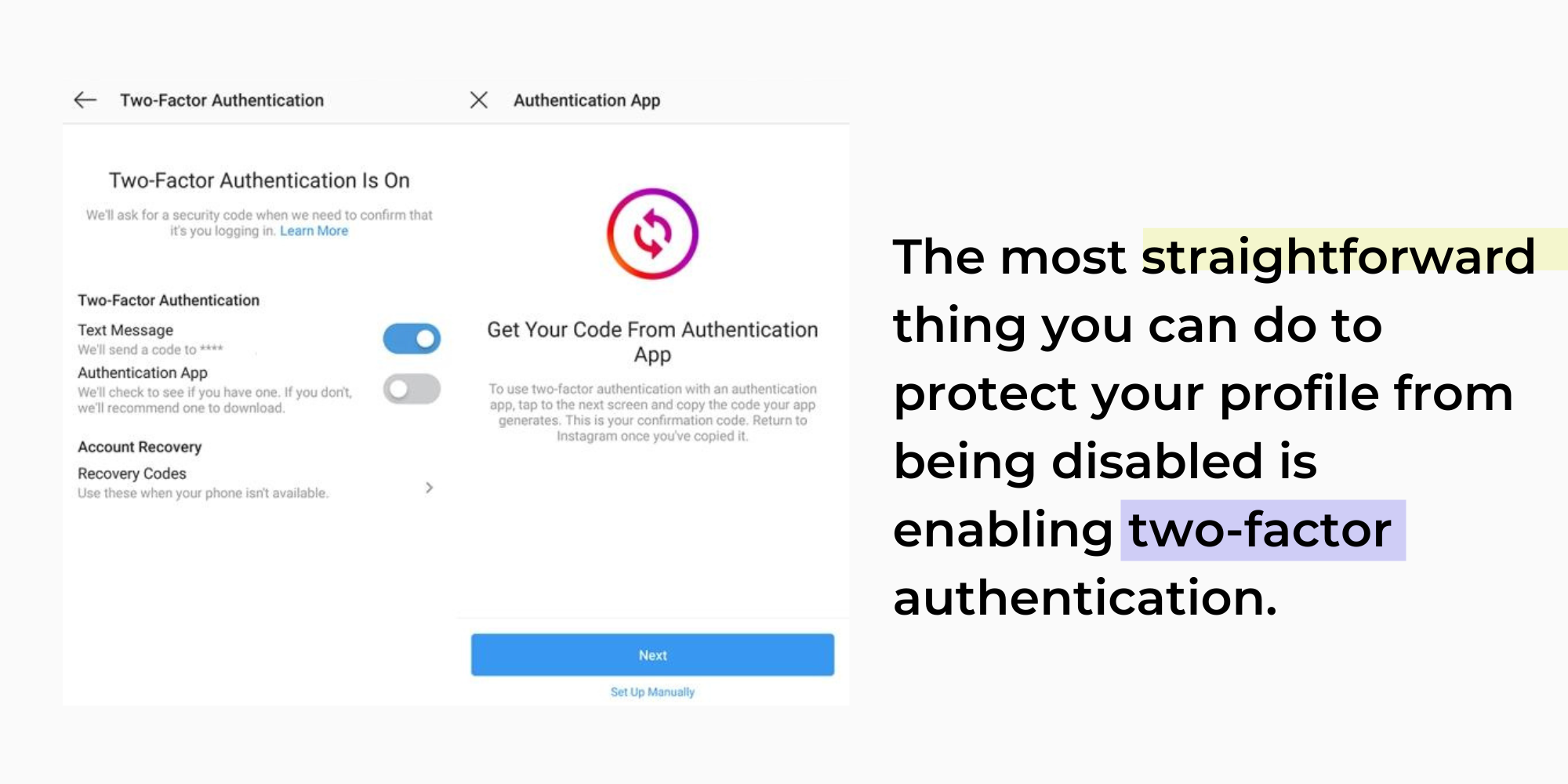 Banned hashtags are a little Instagram nightmare, and I have mentioned them  once or twice in the previous post – but we're going to talk about them again because they are super easy to eliminate from your Instagram profile when you use the right tools. And by the right tool I mean free IQ Hashtags feature. Multiple use of banned hashtags in your posts can also get your account temporarily blocked or even disabled. They are recognised by Instagram as spam that violates Instagram's community guidelines.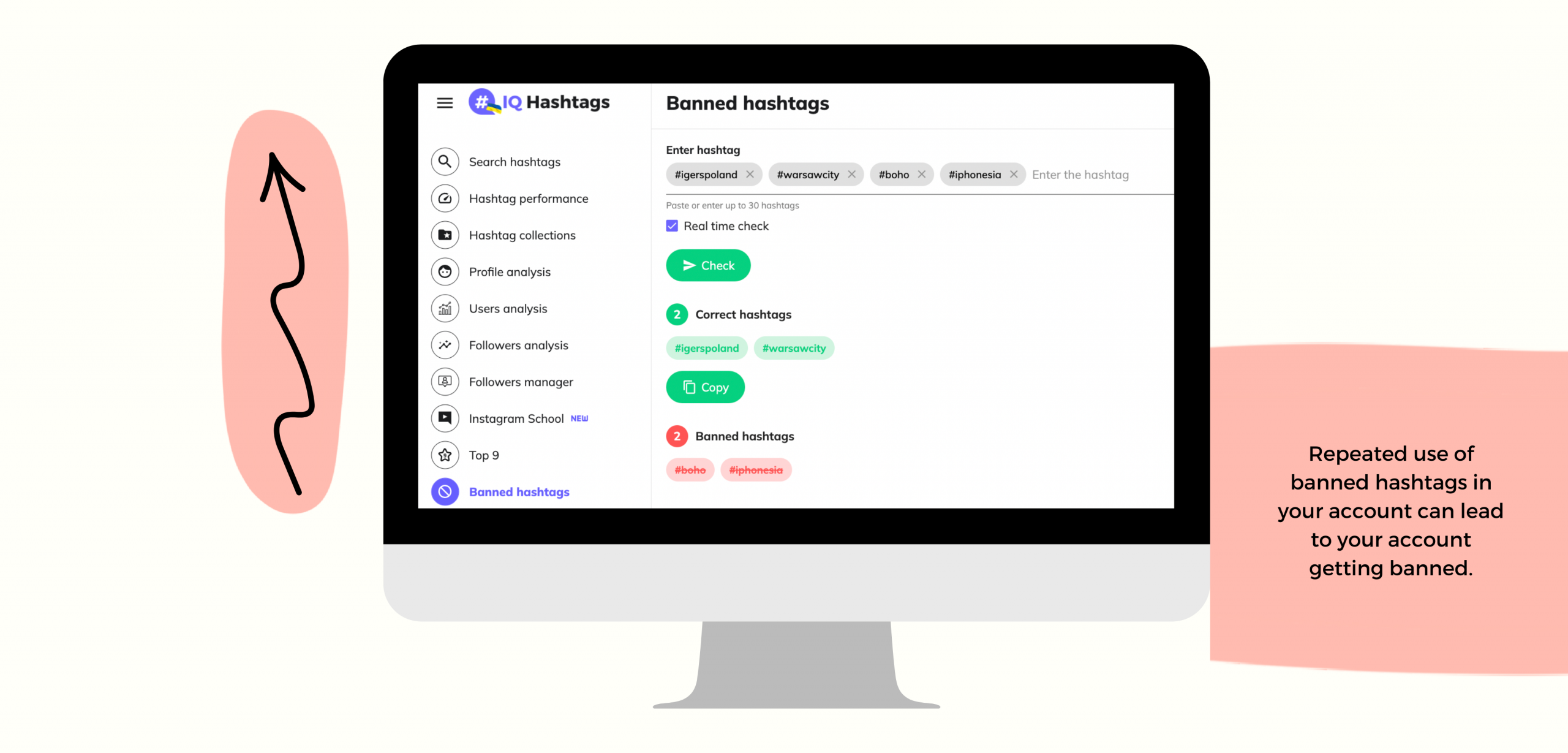 Buying Fake Followers and Likes
Buying fake followers and likes – not much to explain here, because it's been said and advised by almost every social media expert/guru or whatever is the appropriate title. So let's keep it short. Any mysterious jump in likes, comments or followers in your account can be recognised by Instagram as suspicious and also get your account disabled. It's just not worth it, especially that the platform got very good at detecting these tricks.
Bot Alike Behaviours
Another thing to eliminate from your profile are bot alike behaviours – being spammy in any way can also lead to you account being disabled or temporarily blocked – and I'm sure you want to avoid neither. Things like using too many tags in your posts. The same set of hashtags in every single post. Using irrelevant hashtags. Blasting the same comment at a 100 profiles at one go. These are things you should pay attention to because they can also look suspicious on Instagram. Try to stay creative. If you comment on people's posts make sure they are insightful and bring value. Don't write comments with a row of emojis. Try to keep your hashtags fresh from one post to another. Don't just copy and paste and make sure they actually specifically relate to the image or video you're posting.
Can Instagram Ban Your Account Without Warning?
Instagram makes mistakes.
Fortunately, if that's the case, their actions shouldn't cause permanent damage to your account, but I'm afraid that we need to accept that they can. 
Even if you're very careful and follow all of the Instagram guidelines, this can happen to anyone – so before you find yourself in this position, let's go over a very short list of things to prepare in case your account gets taken down to minimize the damage.
Make Sure People Can Find You Elsewhere
That's why remember that Instagram is only one pillar of your business. Your link in bio is a place where you can refer your audience to your blog, website, e-commerce, your behance profile, and if you're in more than one place use Linktree to give your followers access to more amazing content. Make sure that people know that you exist beyond Instagram, and they can find you there. So whenever something like getting your account disabled happens, they can still require your services elsewhere!
Build a Mailing List
Another useful thing you can do is building a mailing list – so you can communicate the situation to your followers and if your profile recovery doesn't work, introduce them to your new Instagram profile. This should help you build your audience way faster than starting from a scratch. 
Document Your Followers Testimonials
The last piece of advice we have for effective damage control is to screenshot any positive DMs from your followers, your customer reviews, in feed comments that show how valued and engaging your work has been – you can keep them safe on your hard drive and use them even when your account hasn't been disabled. Don't you feel more confident about brands, services or products backed by great customer feedback? I think we all do.
So if your thriving Instagram profile disappears from the face of the world, it could be great content to use in your stories or in your feed as a statement of great value that you once provided and plan to continue doing so. This can be a great trick in rebuilding you Instagram kingdom, making yourself more credible at the start of your new journey.

This has been a pretty broad article, and I hope it has provided  you with some useful tools to better protect your Instagram profile from being disabled, and also motivated you to build some back up plan in case the worst case scenario happens.