The world outside the 'Gram exists. The questions is: how to use your IG profile to drive valuable traffic to your different platforms that need attention too – your website or your blog? Let us tell you: this knowledge can turn out to be an ultimate game-changer for ANY creator, any brand owner, and anyone considering selling their own products or services in the future. Instagram allows you to engage with your tribe and new potential followers from your target audience, but how do you drive them to your landing page? How do you take them somewhere outside the platform? Does Instagram allow you to capture an already engaged community? How to begin and turn it into a working strategy to boost your conversion rate? Or maybe you'd like to make your followers read articles on your blog?
Indeed, it is a challenge, but don't panic.
We've done in-depth research for you and gathered the most practical solutions (AS ALWAYS).
Is Instagram

good for driving traffic?

How can you get traffic to your website?
We can't deny it: Instagram isn't the most link-friendly platform, but it's evolving, and this approach is fortunately quick to fade. While you still can't link a regular Instagram post, there are still several ways to earn organic website traffic directly from Instagram. Let's dive into the most strategic ways to use all the clickable links! Actually, in today's article, we will share some of the EASIEST and tested tips to increase your website traffic like a pro marketer – using Instagram link stickers and clickable link the BIO only! 
Ready? Let's get started!

What clickable links do we have in our Instagram arsenal?
Regardless of the size of your tribe (and numbers on your follower count), the platform's true potential isn't FULLY unlocked until you bring at least some of those followers to your websites outside the Gram. In the following paragraphs, we'll cover several proven ways of getting there. Let's go! If you're reading our tips and news regularly, chances are you already know some of the strategies. Still, we're going to approach them from new angles so you can learn how to increase your website traffic without any worries or technical troubles along the way.
First pro tip: make sure you're using a professional account to access all the features (if you're still learning about differences between available account types: we've elaborated on this topic right there: What is the difference between a business account and a creator account on Instagram? The best pick!).
What options to use clickable links do we currently have?
a link in the BIO
creating a link tree to encourage followers to visit more than one website
link stickers (unfortunately only if you can first meet two requirements)
IGtv links (they deserve an individual post, that's why we'll elaborate on them in the next article)
links in DMs (the same story right there – it's a strategy that demands a comprehensive guide because many tricks may surprise you!)
You have to admit: that's quite a nice package. But how EXACTLY can you use them to make them work in your favor more intensively? Keep reading; we're heading there!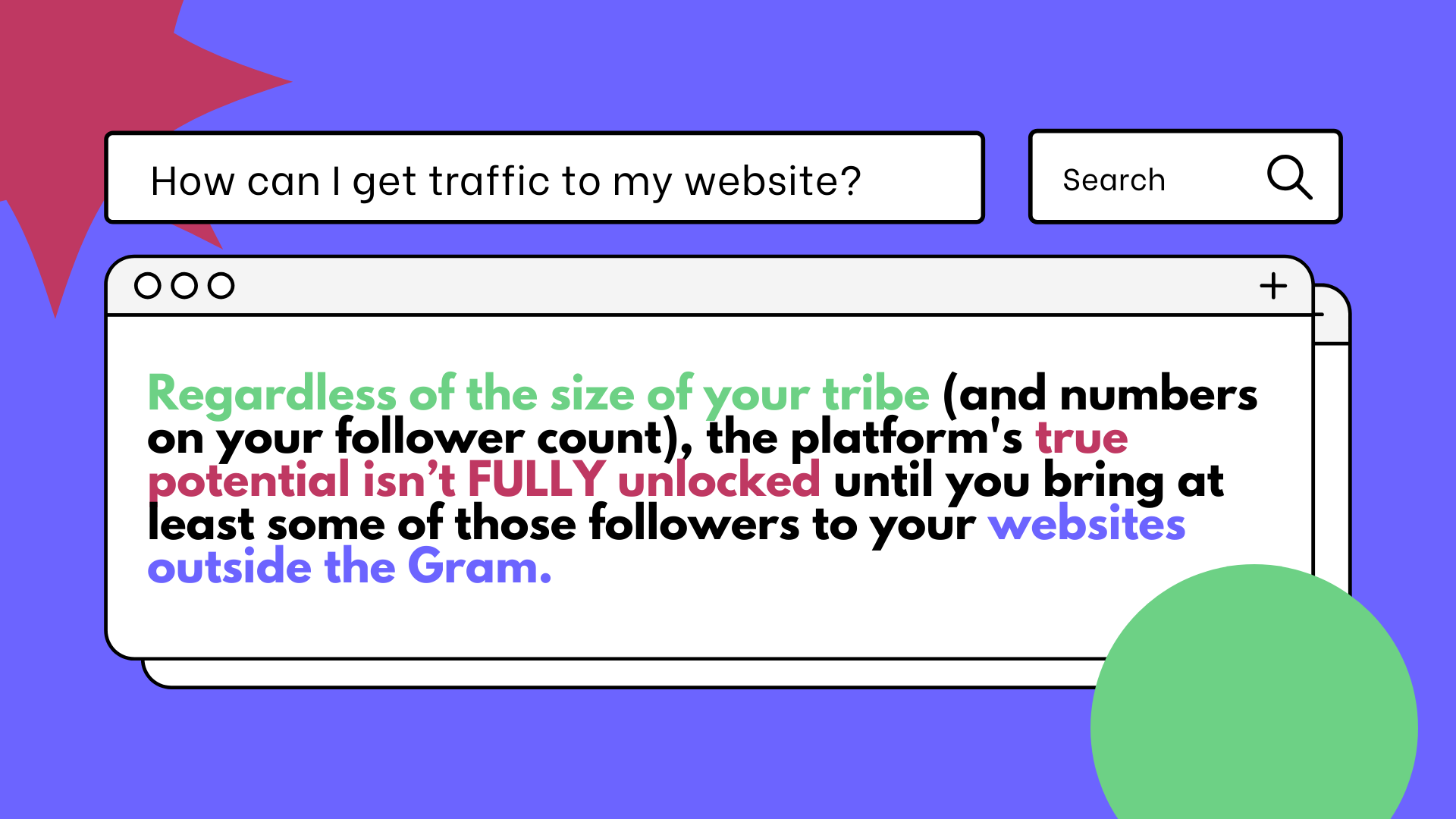 Use

the full power

of your BIO link.
Your Instagram bio is a really big deal. Mainly because, actually, it's the first thing people notice when they check out your profile! The more good news? Everyone, EVERY single user can include a link in their bio: you don't have to wait till 10k on the follower count to enjoy the power of this link and drive traffic to the website that is your current priority.
That's it: your bio should ALWAYS contain a link to the website that is your number one at the moment, so you're hoping to drive followers toward it. It doesn't have to be your main homepage! That's the mistake many people make: most creators and brand owners paste a link to their home pages and leave it that way forever.
When they initially set up their account, they likely added a link to their official page, and probably it's been there EVER SINCE. Do we have to tell you it's not the most strategic approach? The bio link is most beneficial when it's frequently UPDATED.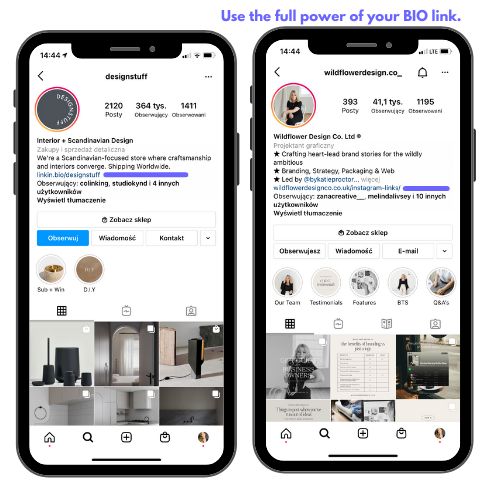 Consider linking to a particular article, landing page, or product/service on your site instead. Because this little bio link can do so much more than just heading your followers to the official homepage! You can update this link AS OFTEN AS YOU NEED TO. Use it to guide your readers to:
Your current campaign page
A newly launched product or services 
A new article/blog post 
Your newsletter / landing page
Then, you can use CTAs like "link in my bio" in your posts. Believe us: it really is a smart way to increase the number of your followers who actually click on it! To speed up the process, even more, you can also add CTA directly to your Instagram bio. How? Easy peasy. Just consider writing a catchy line of copy, right before your link in bio, such as: "Click to download the free guide!". It will make your link way more actionable.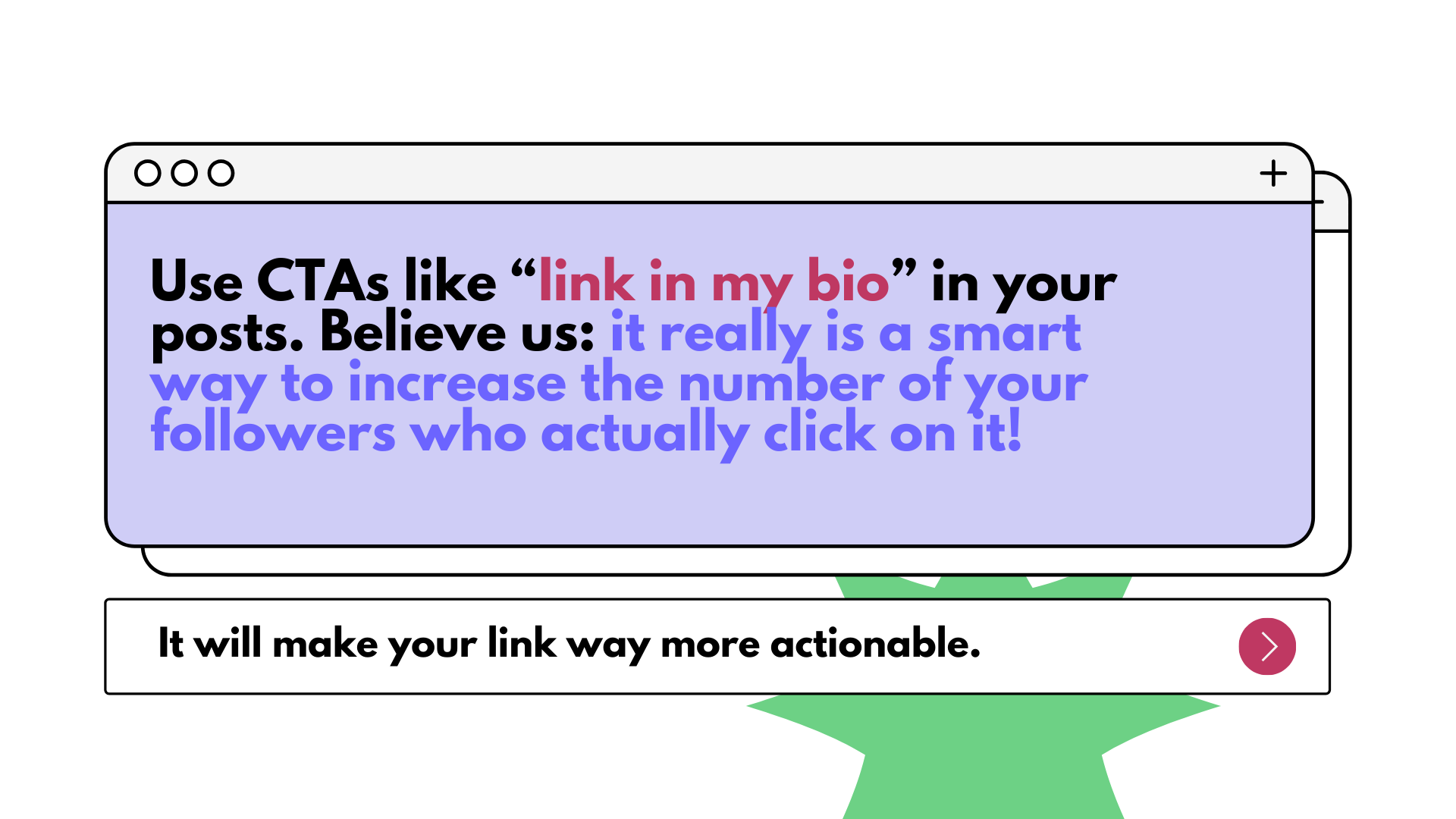 One link in the bio is not enough?

Use the link tree!
At the moment, Instagram lets you use only one link featured in the bio. But don't sweat if the choice is challenging or almost impossible to make! There's a solution! This is where link trees come in handy.
"A tree? Are you crazy? I don't want to turn my profile into a garden," you might want to say, but believe us: that's a method you've been looking for. All kidding aside, let's go back to the business and elaborate on how it works!
Linktree lets you build simple microsites that lead your followers to all your websites. You can encourage them to go wherever you can be found one-line through one link.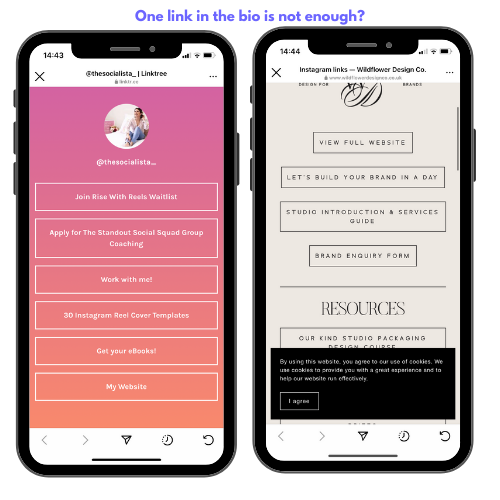 That's how it looks like. You can fully customize the style of it: colors, fonts, layout, whatever you like. Let us say it's really intuitive and comfy to use: and we've seen many popular creators use it, so give it a try! 
This can have a truly significant impact when it comes to driving more traffic from Instagram. 
Protip: don't forget to use UTM tags on ALL LINKS from Instagram to your websites or blogs, so you have good reporting on which links were the best traffic providers!
Link stickers –

the new swipe-up feature replacement
You remember it for sure: the swipe-up feature was an Instagram game-changer for many brands. It enabled us to send followers directly to the outside destinations, like the official website for example, when they swipe up or click on the "see more" CTA right at the bottom of the particular Instagram stories.
It was working remarkably well.
The only obstacle standing in the way was that this sexy feature was available if you had at least 10,000 followers. That's a lot.
Recently, it was time for the winds of change – Instagram's decided to retire the swipe up feature. Instead, they introduced us to the new link stickers. What's the deal with them? Who gets to use them – is it precisely the same story as with the swipe-up option? Is it going to change the way we use clickable links? Let's analyze the brief overview of this new feature that has replaced the swipe-up feature.
What exactly is the new Instagram link sticker? Nothing really complicated right there. We already know the rules because it replaces the swipe-up feature, letting creators add an external link to Instagram stories format.
The caveat? To unlock this feature you also have to have at least 10,000 followers. We've heard from some of you that Instagram is testing giving access to it to creators with less than 10k followers, but right now, it's just testing, nothing official yet. What to do if you can't have the feature yet? Don't worry at all! If you don't meet the "10k" criteria, you can still harness the power of Instagram stories by posting shareable content, creating thought-provoking discussions, and inviting your followers to engage. Why is it worth your time? Having outstanding Instagram stories content will encourage your tribe to take the next steps, get to know you better, interact and head over to your landing page / official website / online store or a blog. We can't stress this enough: stories are also an effective way to tease new content. and alert your followers to recent posts in your feed that they may not have seen yet.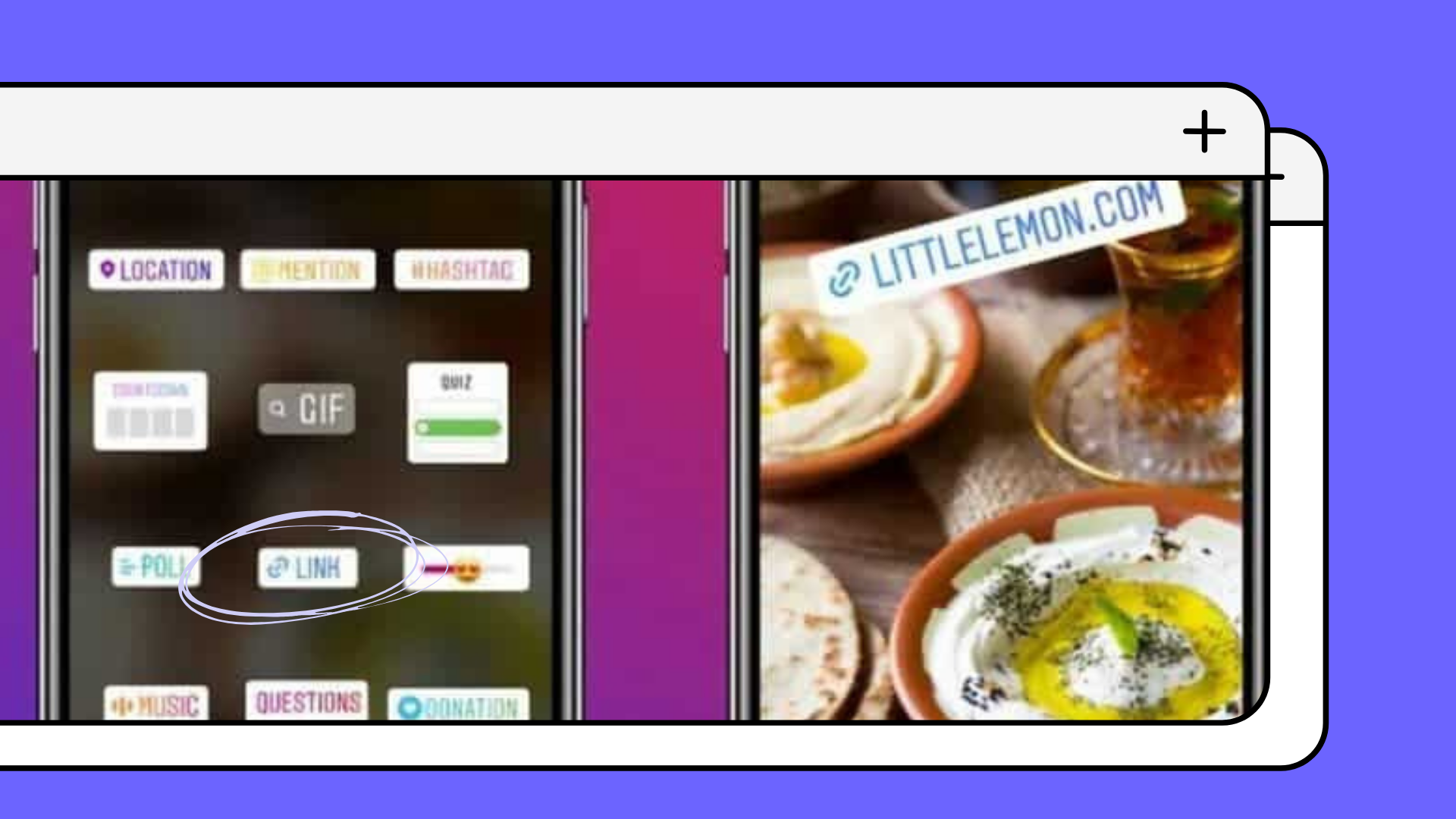 To wrap-

up

!
Today's easy-to-implement strategies can authentically help you use clickable links on Instagram and drive organic traffic from the platform STRAIGHT to your top-priority website, online store, or blog. That's really important because the following you build on the platform can REALLY help you increase your conversion rates as well. We've discussed four ways to take advantage of Instagram to get more eyes on your top priority websites. The key takeaways?
If you already have 10k on your follower count, or you're just lucky and got access to this feature anyway: use the "link stickers" feature on Instagram stories to direct users towards your websites
Don't forget to use UTM tags (you can generate them right here: UTMs / campaign links builder) on all links from Instagram to your sites, so you have actionable reporting on which tactics were the best session drivers.
Take note that you can update the link in your bio ANYTIME. When your business/brand has a marketing campaign, a new blog article, or a newly-launched collection, update your BIO  link to a specific landing page.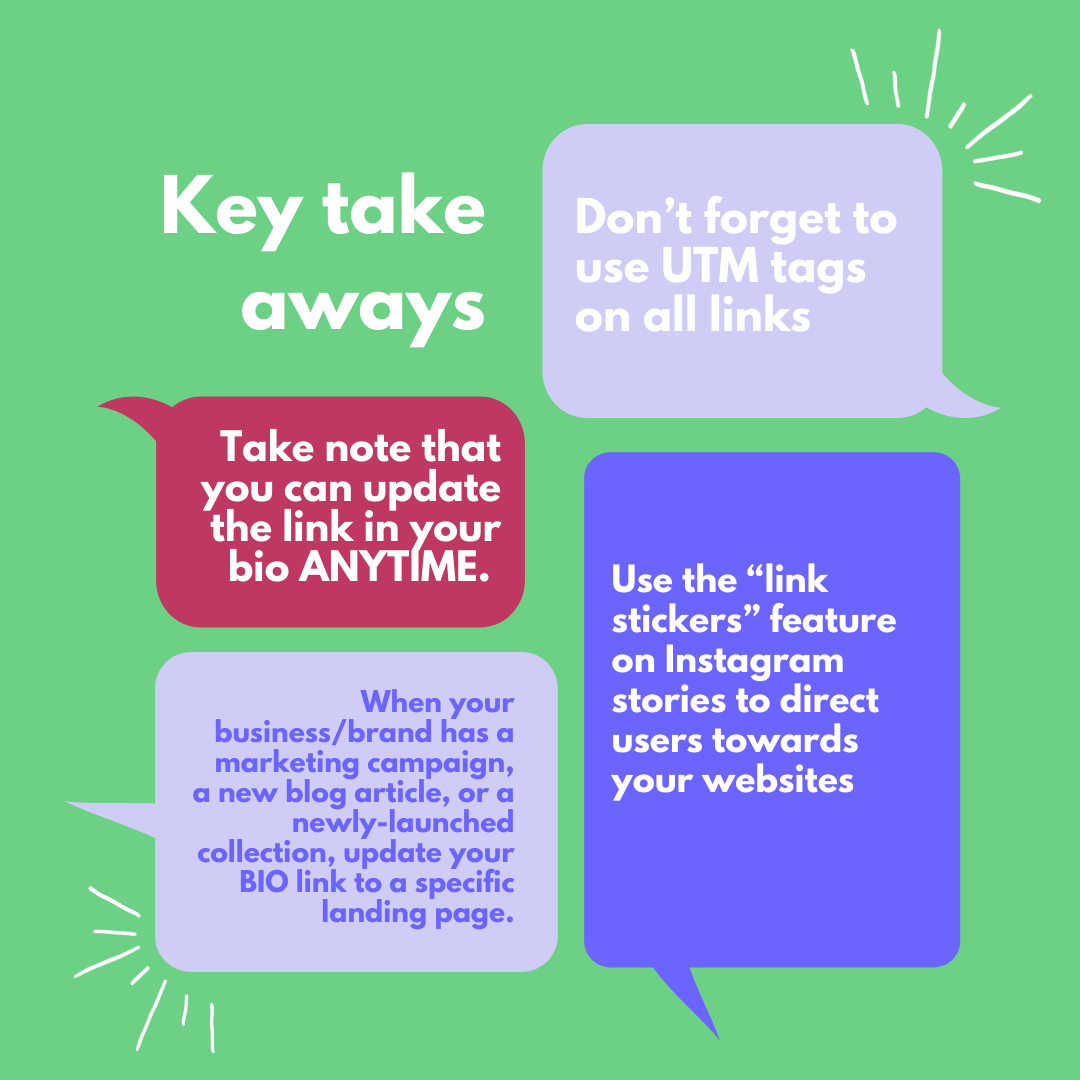 That's it for today! You're now armed with the knowledge to drive traffic to your website from Instagram. Hope this will help you on your way to getting more satisfying results and plenty of pleasant surprises!