Let's face it – Instagram is forever evolving. Whether it's a visual modification, the launch of a new feature, the introduction of a totally new format, or just changes in the content display order, it's not an exaggeration to say Adam Mosseri (head of the platform!), and the rest of the team keep creators on their toes. Props: they have extensively expanded their capabilities to keep up with content marketing trends, and more importantly, remain relevant among other social media giants (yes, we're talking Youtube and Tiktok).
Right now, nobody can deny it: video format is taking over all social media platforms at large. And there's every indication that Instagram doesn't want to lag behind! There's a buzz about Mosseri's statement he uploaded several weeks ago on Twitter – the most crucial takeaway from it is relatively straightforward: he admitted that Instagram is no longer a simple "square photo-sharing app". What exactly does it mean? Because of these official comments made by the head of the IG, many content creators are bothered with burning questions: will regular posts achieve a much lower reach compared to video posts? Is Instagram capitalizing ONLY on video content? Does Instagram see itself as a platform where people can share video content exclusively?
Let's dive in and analyze what has been said – because there are some murmurs and fears that could lead to a lack of understanding of what Instagram is trying to do. And there are some myths that need debunking! If you're ready to maximize your growth with video marketing, this is the blog post for you. If you're a bit scared and skeptical about announced changes and you want a scrutinous explanation – you're in good hands as well. Let's go!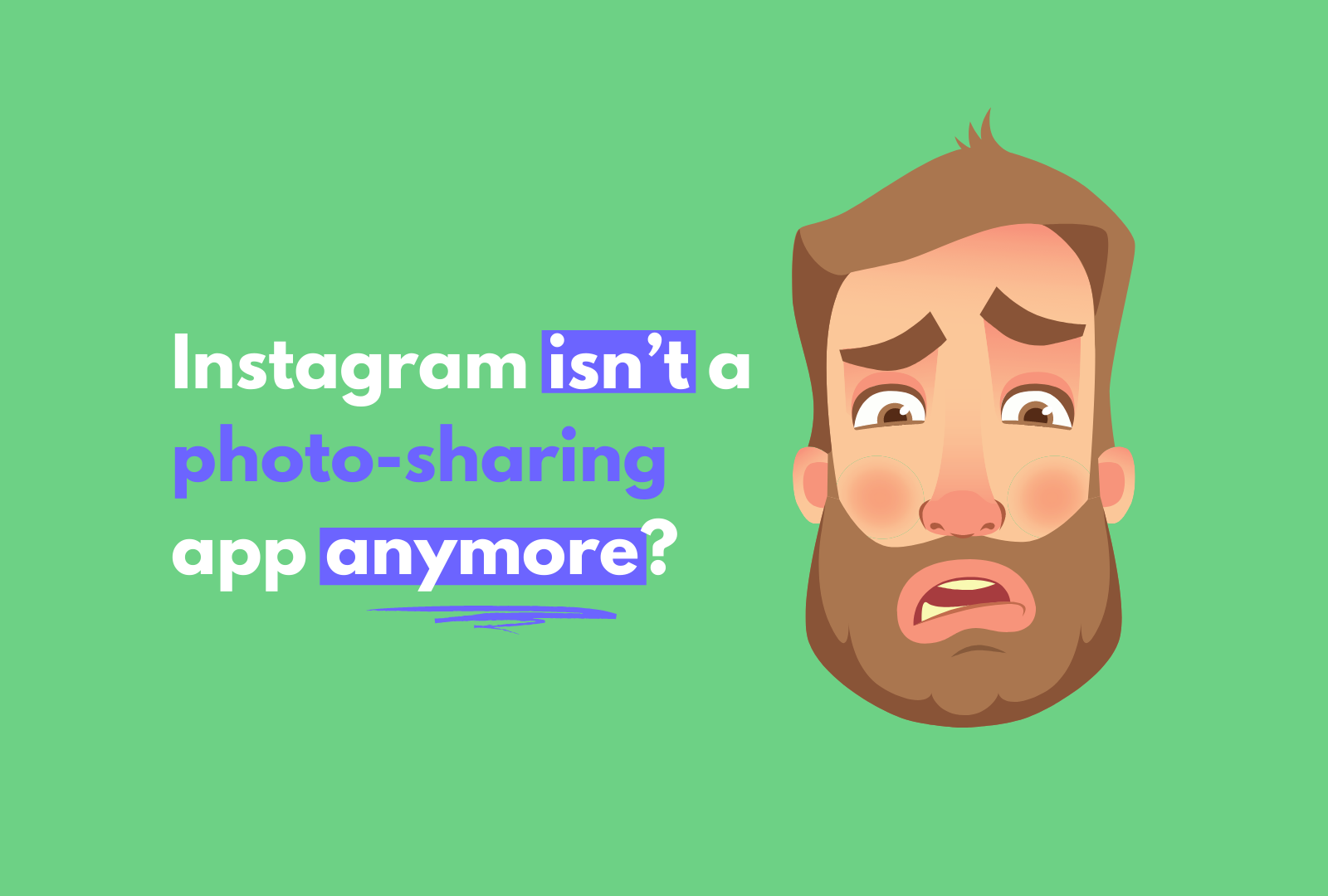 What exactly has been said?

What did Adam Mosseri mean

?! 
No panic (and no disco)! Now, let's analyze what Adam has said, with some additions, to determine what we can expect from Instagram and how to make these significant changes work in our favor.
From the git-go! In a short video he posted to his social media accounts, Mosseri said that it's time for the winds of change. What changes did he mention? What's the near future of Instagram? 
Instagram plans to start showing users bigger size or even full-screen, recommended videos in their feeds
Reels are more likely to appear on the Explore page to reach more potential new followers
Video content performs better (organically!) than other types of posts when it comes to generating engagement
IGTV also shows up in the Explore section, so it's easier for new people to discover and watch videos you post

Adam is fascinated by the storytelling power of short videos, and he knows that they're highly entertaining – that's what people like to see the most, he says

As Youtube and Tiktok are growing big, to stay competitive, Instagram has to follow up

They will focus on working on improving and innovating video features
In terms of best tactics, Adams says that leaning into video is highly beneficial, with the five first seconds being most critical to hook viewers in!
He also reminded that hashtags are still effective for discovery, and they can drive outstanding results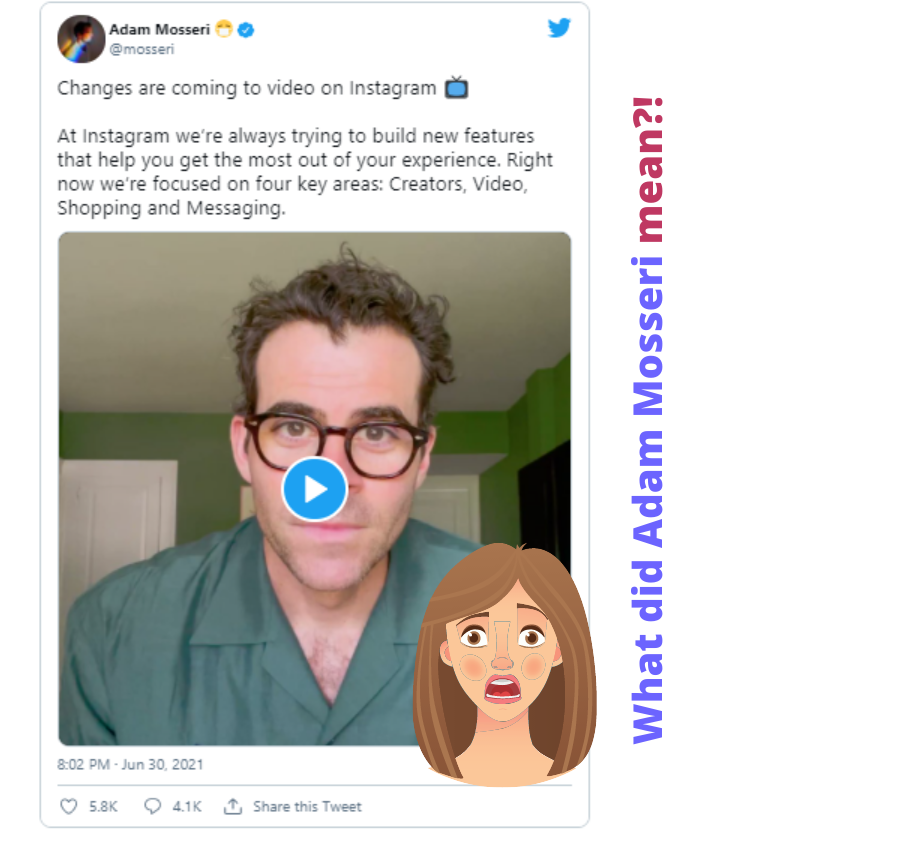 You may wonder – what has happened that the Instagram team decided it's high time to change the priorities and start making video content a foreground? As Mosseri puts it, the in-depth research shows people need more entertainment: that's the reason they log into the app. And that's what Instagram has to offer them. Otherwise, they risk losing too many users, as they may prefer Tiktok or Youtube.
Is video marketing here to stay

? What about "photography-first" creators? 
Some creators (those who prefer regular photos over videos) are seriously bothered by the video-first approach – they even ask themselves: why should we stay on this platform anymore!? Becki and Chris (the ones of our favourite influencers) wrote in one of their tweets: "it makes us so sad that there's no good place for photography/photographers anymore." Their followers agree, and they explain that in their opinion, TikTok should be for short, amusing videos, Instagram should be for photo and graphics sharing, and YouTube should be for longer, more serious, and time-consuming videos.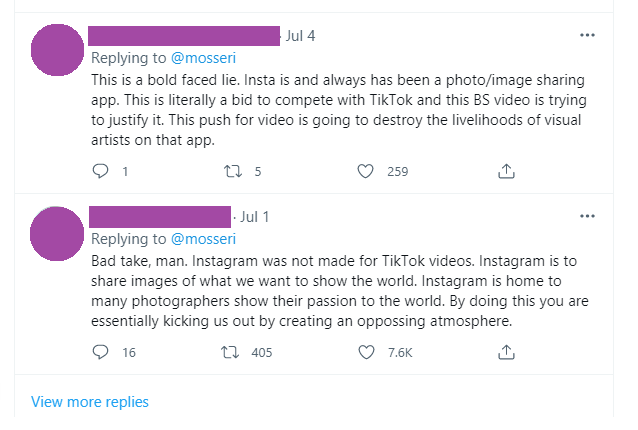 It's good to see both sides of the argument.
But well – what should you do now? Try not to be saddened by the news and make them work in your favor. There are lots of opportunities lying there! The truth is, video marketing is here to stay (it's one of the 2021 trends that's gathering steam the fastest!), and there's most probably no going back. Recent research shows that RIGHT NOW, the average Instagram user spends over half of their time on the Gram browsing the videos. Yes, that's really a lot; regarding that Instagram for long years was considered to be a photo-centric platform. That's it – it's passing into history, we guess.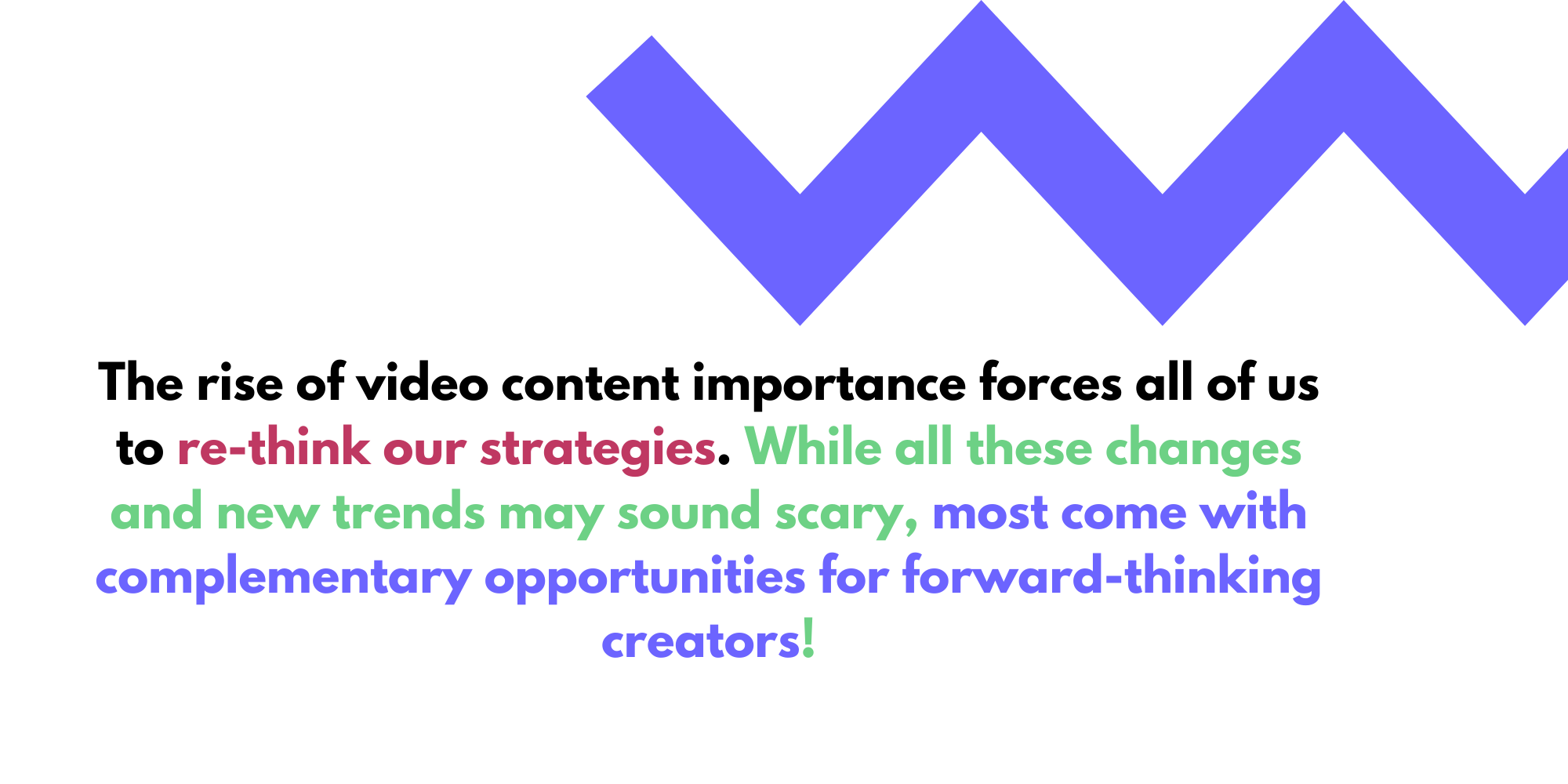 So should video marketing REALLY be

a part of your content marketing strategy

?
You can already predict the answer. We're doing our own research all the time, and we won't lie here: the importance of video content should really make you look closer at how you could use video features to drive some traffic to your profile. It goes without saying that any businesses not using video format can be falling behind.
Think about how many regular posts with photos and graphics an individual sees every day. This over-saturation means using trends to boost your profile's visibility is even more crucial. Refine your strategy a bit – there are so many video formats to choose from: IGTV, Reels, Lives! Maybe you'll end up loving one of these?

To

wrap

-up!
The rise of video content importance forces all of us to re-think our strategies. While all these changes and new trends may sound scary, most come with complementary opportunities for forward-thinking creators. Making massive changes in content creation processes may seem overwhelming for anyone passionate about photography and graphic design. But if you start with little steps – short video content from time to time- one step at a time, you may be really surprised. In the upcoming blog posts, we'll teach you how to do it the strategic way! Create new content assured that we're always by your side! 🙂